Skip to content
Skip to navigation menu
ADVANCE Boxer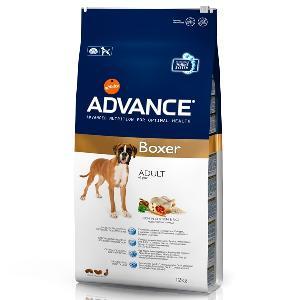 Product details
ADVANCE BOXER
Advance Adult Boxer rich in Chicken & Rice

This high-quality food has been specially formulated to satisfy the nutritional needs of Boxers after their first year:
• It incorporates specific functional ingredients and a moderate level of calories to promote good joint, muscle and heart function and eye health
• Promotes improved digestion
• Specifically designed kibble

Features and Benefits
CHICKEN AND RICE, MAIN INGREDIENTS - Excellent sources of protein and carbohydrates that are easily digested and offer optimum nutrition for delicate digestive systems.
EGG, YEAST, IMMUNOGLOBULINS AND HYDROLYSED PROTEINS - Supply highly digestible proteins with great biological value to promote digestion with fewer odours.
APPLE AND BEETROOT PULP - Sources of fiber that regulate bowel function and aid in optimum digestion.
GLUCOSAMINE, CHONDROITIN SULFATE, COLLAGEN AND ESSENTIAL OMEGA 3 FATTY ACIDS - Their combined action promotes joint cartilage and bone health to prevent the onset of bone-joint problems.
L-CARNITINE - In muscles and the heart, it helps convert fat into energy for maximum mobility and activity.
TAURINE - Amino acid that promotes proper heart function.
BIOTIN, ZINC, ESSENTIAL OMEGA 3 AND 6 FATTY ACIDS - Their combined action promotes adequate heart function and vision.
Ingredients
Ingredients: Chicken (16%)dehydrated poultry proteinswheatrice (15%)maizeanimal fatmaize glutenhydrolysed animal proteinsdehydrated pork proteinsbeetroot pulphydrolysed collagenfish oildehydrated egg (1%)apple fiberyeastpotassium chlorideplasma proteinstomato (0.3%)tetrasodium diphosphatedehydrated carrot (0.1%)dehydrated apple (0.05%)glucosaminechondroitin sulfatenatural polyphenols.
Customer reviews
We're sorry but there are no reviews of this product in English.