Skip to content
Skip to navigation menu
ADVANCE Bulldog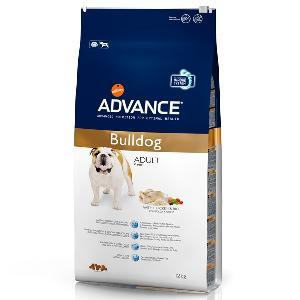 Product details
ADVANCE BULLDOG
Advance Adult Bulldog rich in Chicken & Rice

This high-quality food has been specially formulated to satisfy the nutritional needs of English Bulldogs after their first year:
• It incorporates specific functional ingredients and a moderate level of calories to promote optimum weight and digestion with fewer odours
• Nourishes skin and coat
• Reinforces the proper functioning of the cardiopulmonary system
• Specifically designed kibble

Features and Benefits
CHICKEN AND RICE, MAIN INGREDIENTS - Excellent sources of protein and carbohydrates that are easily digested and offer optimum nutrition for delicate digestive systems.
EGG, YEAST, IMMUNOGLOBULINS AND HYDROLYSED PROTEINS - Supply highly digestible proteins with great biological value to promote digestion with fewer odours.
ANTIOXIDANTS (RED BERRIES, VITAMINS E AND C), TAURINE AND L-CARNITINE - Their combined action helps reinforce the cardiopulmonary system.
FOS (FRUCTOOLIGOSACCHARIDES) AND BEETROOT PULP - The combined action of these two sources of fiber regulates intestinal function and promotes the growth of beneficial intestinal flora, which enhances the absorption of nutrients and improves the bad odour of faeces.
YOGHURT - Its excellent taste makes the food more appetizing.
BIOTIN, ZINC AND OMEGA 6 FATTY ACIDS (SOYA OIL) - For healthy skin and a shiny coat.
GREEN TEA AND PYROPHOSPHATES - Help prevent the formation of tartar and promote fresh breath.
Ingredients
Ingredients: Chicken (17%)rice (17 %)maizewheatdehydrated poultry proteinanimal fatmaize glutendehydrated pork proteinhydrolysed animal proteinbeetroot pulpdehydrated egg (1%)yeastfish oilsoya oilplasma proteinscalcium carbonatepotassium chloridedehydrated yogurt (0.3%)tetrasodium diphosphatesaltfructooligosaccharidesgreen tea (0.1%)dehydrated red fruits (0.05%)citrus extract rich in bioflavonoids.
Customer reviews
We're sorry but there are no reviews of this product in English.