Skip to content
Skip to navigation menu
Adaptil Calm Collar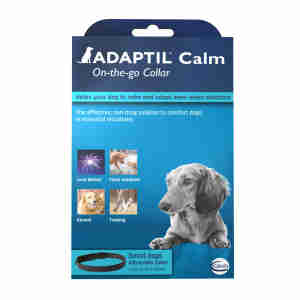 Rollover image to zoom
Product details
The Adaptil Collar uses your dog's body heat to release a reassuring pheromone wherever your dog goes. It helps to relax your dog in situations that cause them stress.
How it works
Adaptil is a synthetic copy of the dog appeasing pheromone that is naturally released by a mother dog to comfort and reassure her new puppies. This pheromone has been shown to have the same comforting effect on dogs when they are faced with a stressful situation.
Key benefits:
creates a pleasant environment
reduces stress
can be left on continuously (except when shampooing)
improves behaviour
non-sedative and non-systemic so it can be used alongside other types of medications
scientifically proven
used by vets and pet owners worldwide for 14 years
provides 4 weeks of constant support
When to use it
If your dog is scared of loud noises, has issues with kennels (i.e barking and whining), shows signs of fear when on a walk or has issues with training, Adaptil can help to comfort your four-legged friend. It is recommended that the Adaptil collar is kept on for at least a month and normally results are seen within 7 days of wearing the collar.
Size Guide
Fit the collar so that there is enough room to fit two fingers underneath. Once you have fitted it, cut to size.
Small/medium puppy, fits neck size up to 37.5cm
Medium/large adult, fits neck size up to 62.5cm
Customer reviews
Product reviews are filtered by language.
The following reviews are available in English.
it helps

it has helped my anxious dog a wee bit! he is calmer when out and about but still not 100% but an improvement!

Cost

May work for other dogs but didn't work for mine and as it only lasts 4 weeks not worth the money.

Calming collar sometimes successful

George suffers from separation anxiety and chews through soft furnishing when I go out. The collar, together with calming tablets and diffuser seemed to help with this problem, although has not been so effective in the past ten days. Keep soldiering on.

Massive success!

Maisy is a 9 year old rescue dog and can be very nervous and often aggressive around other dogs, so off-lead time was very limited. After having good results using the collar for the whole month of November and its fireworks I decided to use it all the time. Result - placid, happy dog and fine when meeting others . Off lead no problem now. What I have found, though, is that the & power& runs out after about 3 weeks 4 days, so I err on the side of caution and change it every three weeks. Pricey, but well worth it.

adaptil collar

dog is a lot calmer when meeting other dogs