Skip to content
Skip to navigation menu
Advance Maxi Senior Dog Food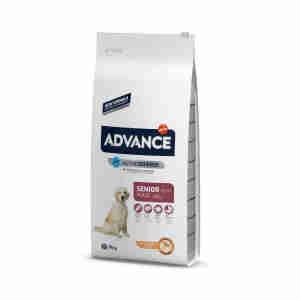 Rollover image to zoom
Product details
Advance Maxi Senior Dog Food is a premium food specially formulated for large breed dogs over the age of 6 years.
How it works
The Advance Maxi Senior Dog Food recipe is adapted to the sedentary lifestyle of older dogs. It contains fiber and proteins, such as rice, maize and wheat which help to maintain the digestion function and keeping the weight under control. The mix of chondroitin and glucosamine promotes strong maintainance of joint cartilage and helps prevent the onset of age-related joint problems. Made with active immunoglobulins which are natural proteins, this formula helps to reinforce the immunity of your dog, delaying the process of getting older at a cellular level. Bones can benefit from optimum calcium content and taurine (amino acid) promotes heart function.
Key Benefits:
High-quality food with active immunoglobulins that help maintain intestinal health
Can delay the age-related effecs
Supports proper development of your dog's bones
Contributes to the maintenance of joint cartilage and helps prevent the onset of joint problems
Promotes healthy heart and active brain
High protein, low in calories - For canine weight control without losing muscle mass.
When to use it
When your dog gets older he might start develop age-related symptoms such as being less active during the day, putting on weight or having joint problems. It can happen gradually, so it is important to give your dog a little bit of care in his advanced years. Advance Maxi Senior Dog Food is suitable for senior dogs of large breeds with a sedentary life because it can help to maintain a healthy level of muscle mass, whilst reducing the risk of becoming overweight.
;
Ingredients
Ingredients: Chicken (14%),Maize gluten, Wheat, Dehydrated poultry proteins, Maize flour, Rice (15%), Maize, Hydrolysed animal proteins, Maize bran, Beetroot pulp, Animal fat, Dehydrated egg, Yeas, Ffish oil, Calcium carbonate, Potassium chloride, Plasma protein,Tetrasodium diphosphate, Glucosamine chondroitin sulfate, Natural polyphenols.
Nutritional additives:
Vitamin A 27000 IU, Vitamin D3 1800 IU Vitamin E 830 mg Vitamin C (Ascorbyl monophosphate calcium sodium salt) 500 mg Taurine 1200 mg Ferrous sulfate monohydrate 260 mg (Fe: 85 mg) Potassium iodide 1.9 mg (I: 1.4 mg) Copper(II) sulfate pentahydrate 34 mg (Cu: 8.8 mg) Manganese sulfate monohydrate 124 mg (Mn: 40mg) Zinc sulfate monohydrate 395 mg (Zn: 144 mg) Sodium selenite 0.24 mg (Se: 0.11 mg) With antioxidants.
Analytical constituents:
Protein 27.0 % Fat content 12.5% Gross fiber 2.5% Inorganic matter 6.0 % Calcium 1.1 % Phosphorus 0.8 % Humidity 9.0%.
Feeding Guide
Recommended quantity (grams/day):
Adult weight (kg)
30
40
50
60
70
Grams per day
Low activity
340
425
500
575
650
Medium activity
425
530
625
720
810
Intense activity
510
635
750
860
975
Customer reviews
We're sorry but there are no reviews of this product in English.