Skip to content
Skip to navigation menu
You have setup the following Repeat Order: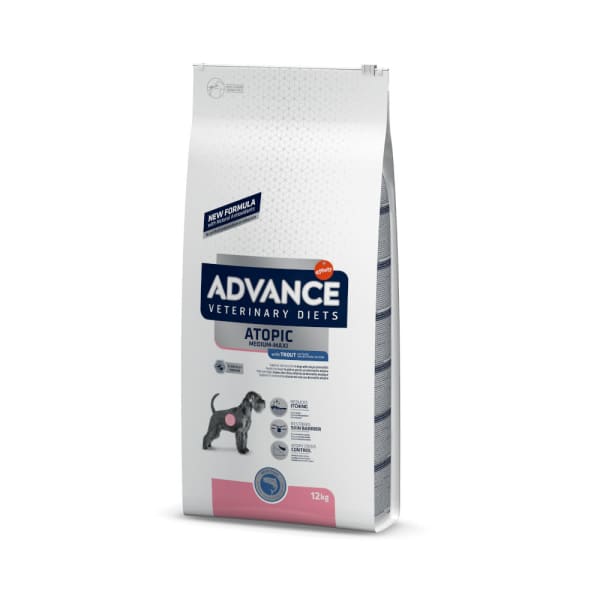 Advance Veterinary Diets Atopic Dry Dog Food
Advance Veterinary Diets Atopic Dry Dog Food
Advance Veterinary Diets Atopic Dry Dog Food
Back in stock notification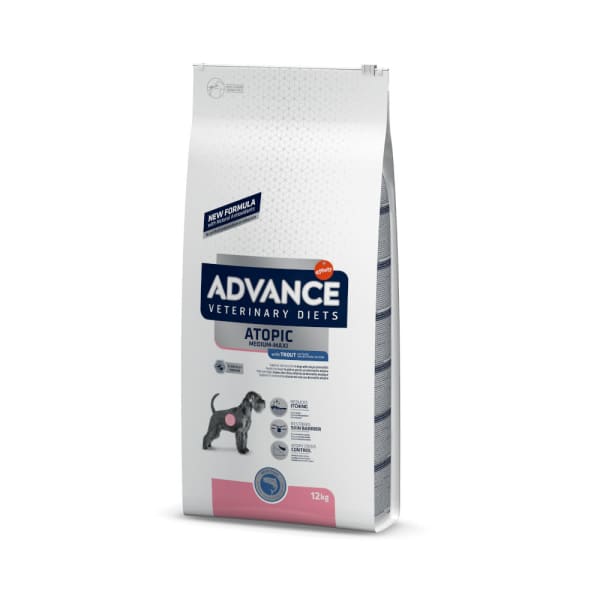 Advance Veterinary Diets Atopic Dry Dog Food
Advance Veterinary Diets Atopic Dry Dog Food
Enter your name and email address below then select which items you would like to be notified of when available.
Product details
Advance Veterinary Diets Atopic Dog Food is a complete dry food specially formulated to prevent adverse reactions to food in dogs with atopic dermatitis.
How it works
This high-quality diet from Advance contains essential nutrients which promotes skin and coat regeneration, maintaining their natural protective function. Potato and trout proteins lower the risk of food intolerances that can appear in pets with atopic dermatitis. Inflamation, which is one of the most common signs of dermatitis can be reduced by Omega 3 fatty acids content. High levels of zinc and yeasts help restore the skin and hair supporting their natural function. Aloe vera gel and olive leaf extract contribute to supply optimum moisture level of skin. Collagen helps heal wounds quicker, preventing the inflamation of skin.
Key Benefits:
Essential Omega 3 fatty acids (EPA AND DHA) help reduce inflammation and the clinical signs of atopic dermatitis.
Linoleic acid (OMEGA-6) decreases the transepidermal water loss causing xerosis and improves the appearance of the skin and hair.
With aloe vera gel that maintain the optimum level of epidermal lipids and the integrity of the cutaneous barrier.
Rich in olive leaf extract which supports anti-inflammatory action and keeps skin healthy
Trout and potato protein minimise the adverse reactions to food that can appear in animals with atopic dermatitis
Collagen peptides. Contribute to greater healing of wounds and reduced skin inflammation
With zinc and yeasts boosts skin repair.
When to use it
If you notice that your dog started sratching more (like itchy reactions) or he is licking compulsively, he might have skin atopic dermatitis or other inflamatory skin problems. Give your dog a little bit of care in his diet and always ask the vet for a complete check-up, if you are unsure about the signs.
Advance Veterinary Diets Atopic Dog Food formula rich in high-quality ingredients help reduce atopic dermatitis, preventing inflmation and supporting skin health.
Do not provide this food if your dog has hyperlipidemia or pancreatitis or other allergies to the ingredients listed in the Ingredients section.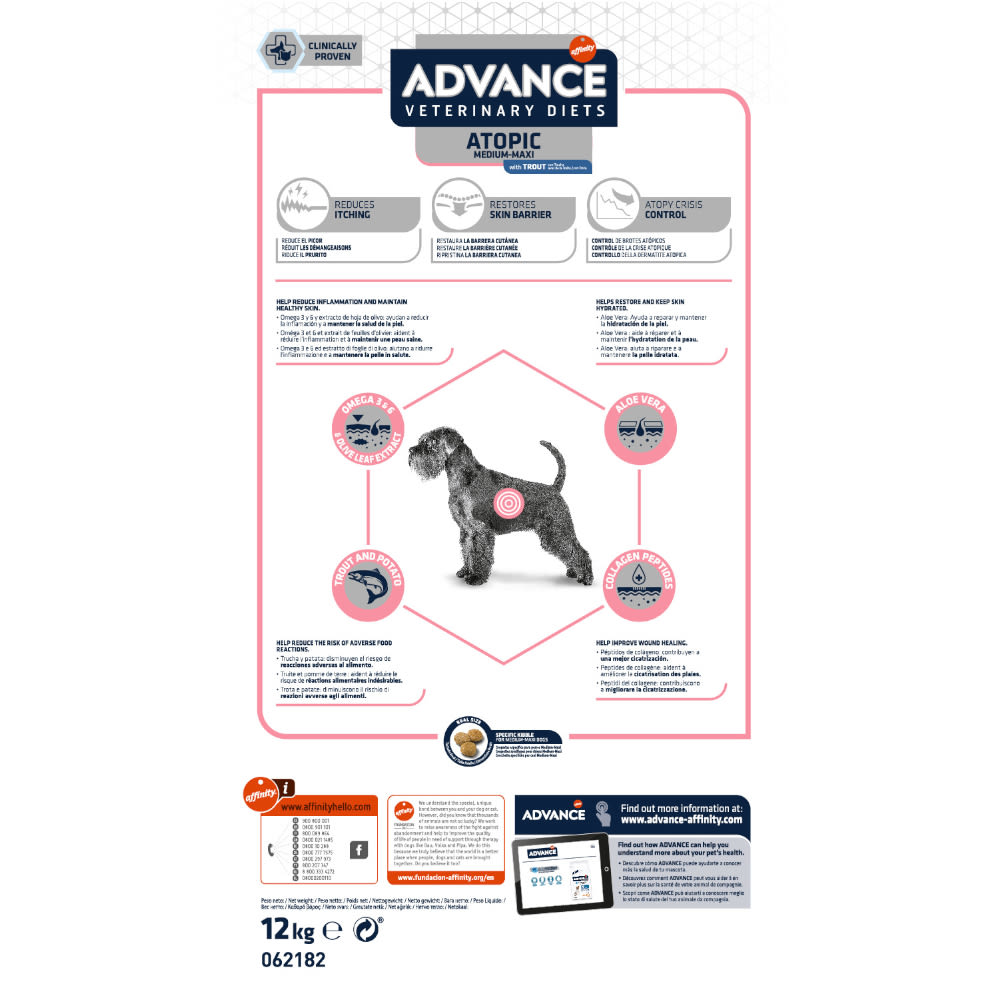 Ingredients
Composition:
Maize, trout, rice, maize, gluten, trout flour, animal fat, potato protein, beetroot pulp, hydrolyzed collagen, yeast, hydrolyzed animal proteins, soya oil, fish oil, vegetable fiber, monocalcium phosphate, calcium carbonate, potassium chloride, salt, olive, leaf aloe vera.
Nutritional additives:
Vitamin A (IU/g) 27000 - 29347, Vitamin C (ppm) 350 - 380, Vitamin D3 (IU/g) 1800 - 1956, Vitamin E mg/kg 450 - 489, Vitamin K3 (ppm) 0.45 - 0.49, Vitamin B1 Thiamine (ppm) 51 - 55, Vitamin B2 Riboflavin (ppm) 23 - 25, Vitamin B6 Pyridoxine (ppm), 15 - 17 Vitamin B12 Cyanocobalamin (ppb) 91 - 99, Niacin (ppm) 208 - 226, Pantothenic Acid (ppm) 45 - 49, Folic Acid (ppm) 6 - 6, Biotin (ppm) 0.10 - 0.11, Iron (ppm) 185 - 201, Zinc (ppm) 275 - 299, Copper (ppm) 15 - 16, Manganese (ppm) 51 - 55, Iodine (ppm) 1.5 - 1.6, Selenium (ppm) 0.5 - 0.5, DHA+EPA (%) 1.0 - 1.1, Total Omega 3 Fatty Acids (%) 1.5 - 1.6, Total Omega 6 Fatty Acids (%) 3 - 3.3, *Omega 6/Omega 3 2 - 2.2. Metabolizable energy (kcal/kg) 3740.
Analytical constituents:
Protein 25%, Gross cellulose 3.2%, Fat content 17%, Inorganic matter 7%, Humidity 9%, Calcium 1.2 %, Phosphorus 0.9 %, Sodium 0.3%, Chloride 0.7%, Potassium 0.65%, Magnesium 0.008%.
Feeding Guide
Recommended quantity/day:
| | | |
| --- | --- | --- |
| Breed | Weight | g/day |
| Miniature breeds | 1-5 kg | 25-85 g |
| Small breeds | 5-10 kg | 85-145 g |
| - | 10-15 kg | 145-195 g |
| Medium breeds | 15-20 kg | 2195-245 g |
| Large breeds | 20-30 kg | 245-330 g |
| - | 30-40 kg | 330-410 g |
| Giant breeds | 40-50 kg | 410-485 g |
| - | 50-70 kg | 485-620 g |
Always make sure your furry friend has access to plenty of water."
All adjustments must be made considering the environmental conditions, level of activity, physical condition and breed size. As can be observed in the enclosed tables, small-breed dogs have greater caloric needs (15%-25% more kcal for every 500 g of additional weight). This daily amount should be distributed over various meals throughout the day.
For every 5 kg of supplemental body weight, add an additional 195 kcal.
Dosage
Customer reviews
Product reviews are filtered by language.
The following reviews are available in English.
Great stuff

My dogs are Picky little buggers, but they live this stuff, it has also cleared up the rash on the elders skin an improved the coat.

Calmed my dogs skin

Has really calmed my dogs skin down, and we have managed to reduce his medication.

My dog has suffers with severe eczema and Otis. I have tried many products and this is the only one that has cleared his skin and improved his otitis a 100%. He is now a happy dog full of energy and a luxurious coat