Skip to content
Skip to navigation menu
Aktivait for Cats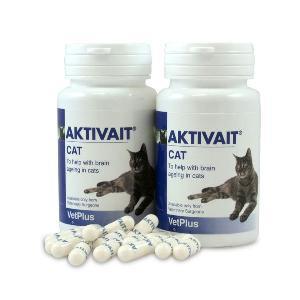 Product details

AKTIVAIT® is a nutraceutical supplement containing safe natural antioxidants and substances that may aid brain function. It is manufactured in theUK to pharmaceutical standards and may help to:
Improve your cat's vitality and energy
Improve memory and mental alertness
Improve your cat's quality of life
What causes age-relatedbehavioural changes?
Humans and animals produce harmful chemicals called free radicals on adaily basis. Young healthy cats produce antioxidants which neutralise thesefree radicals thereby avoiding damage to brain cells. As cats age, they producemore free radicals but unfortunately their levels of antioxidantsdeteriorate. This leads to an excess offree radicals, which can damage the cells of the brain.
How does AKTIVAIT® helpmanage these changes?
AKTIVAIT® is the first supplement to combine all the nutrients necessaryfor sustaining optimum brain function. It contains a complex formula ofantioxidants (vitamins C and E, selenium, co-enzyme Q10 and N-acetyl cysteine)and compounds necessary for optimum metabolism and function of the brain cells (carnitine,phosphatidylserine and the omega-3 fatty acids DHA and EPA). It helps toprevent free radical damage and improve electrical transmission between nervecells in the brain.
When should I give my catAKTIVAIT®?
Cognitive dysfunction is a progressive condition that will tend to getworse with time. For optimal results supplementation with AKTIVAIT® shouldbegin as soon as any signs are seen. It can also be given to cats from middleage onwards to help maintain normal brain function.
How do I administer AKTIVAIT®?
AKTIVAIT® comes in a convenient capsule so it is easy to administer, andcan either be sprinkled onto your cat's food or given whole.
How long will it take to seeresults?
Noticeable improvements from AKTIVAIT® have been reported as early as3-4 weeks after the start of supplementation but this will vary by age, breedand the severity of the changes present.
Customer reviews
Product reviews are filtered by language.
The following reviews are available in English.
Wonder drug!

Our 14 year old boy had started to pee and pooh in the house something he had never ever done, he had always been so clean! It went from the occasional accident to at it worst, 4 pees in the house in one day, and usually on either our duvet, soft furnishings or his and our other 3 cats beds! It was dreadful to see a cat so healthy in every other way, deteriorate mentally. After being on Aktivait for around 3-4 weeks we noticed a marked improvement. Now after 5-6 weeks we have just done a full 10 days without any accidents whatsoever! I can only see this continuing, providing he is taking his one a day miracle capsule in his food. I read the reviews myself before trying and while I remained hopeful, I was sceptical. Please if you are reading these reviews as I did, and are thinking you at least need to give your pet a fair last chance, put one pack of 60 in the basket and get them delivered, quick! They work, just give them a chance. Considering giving them to our 3 other cats.

Saved my cats life!

My cat simply would not be here without this product! Within 2 weeks She's gone from a cat who had little quality of life and was barely eating to a cat that is loving life. Her night yowling has gone from 3 times a night to occasional nights. It's easy to give (she will only take it in highly flavoured cat food such as gourmet pearle) so is stress free!

Seems to be slowly working

We have an adopted, blind 15 year old cat. After having her around 4 months she started crying excessively every night then during the day, and so we bought this out of desperation. We hadn't seen any improvement until this week (just a few tablets to go until the pack of 60 is finished) So we are repurchasing in the hope its just take a while longer than others have stated for it to work! Fingers crossed we can finally sleep again!!

Spencer is BACK!!!

We were skeptical about trying this out after recently finding out our Bengal Spencer has some form of cat dementia (he is 13), but our Vet kindly suggested purchasing this on the internet rather than from them as they charge £60! We have now been using this for nearly two weeks now and we now have our beautiful Bengal boy back! The old Spencer we know and love has returned, and it's the most heart warming feeling... Highly, Highly recommended!

This product definately works for my cat

My Puss-Binky started to show the signs of dementia-restless at night, crying etc. I found this on Google search & was not hopeful-but within 2 weeks he was much better-I put them in tuna but after a couple of months he stopped eating it-I noticed the difference as he had not had any for about 10 days-so now they go down the 'hatch' with a prawn treat afterwards-he went back to normal, again after about 2 Weeks-I would strongly recommend this product.