Skip to content
Skip to navigation menu
Alpha Adult Dog Food Gold Moist Muesli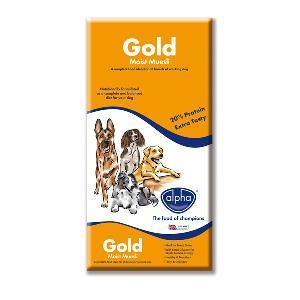 Product details

Alpha Gold 'Moist' Muesli is nutritionally formulated as a complete and balanced diet for all breeds of working dog.

A unique and moist blend of the finest cereals, peas, beef chunks and wholesome biscuits that are carefully cooked to produce a highly palatable food with no need to add anything extra. The flavours are sealed with a glaze of natural glucose that provides a moist but crunchy food. Alpha Gold Moist Muesli therefore encourages a good appetite and is ideal for the fussiest of eaters.

Easy to digest and highly palatable, each meal is balanced and nutritionally complete, specially formulated for health and vitality. Containing 20% protein and the highly quality meat, Alpha Gold Moist Muesli is perfect for the fussiest of eaters.

Ingredients:
Beef Nugget (Beef Meat Meal, Wheat, Wheatfeed Pellets, Poultry Fat, Minerals & Vitamins), Cooked Flaked Maize, Cooked Wheat Extrusions, Syrup, Wholmeal Mixer, Cooked Flaked Peas, Wheatmeal Biscuit, Poultry Fat.

No artificial flavours.