Skip to content
Skip to navigation menu
"Best of its kind"
BETA Adult with Chicken & Rice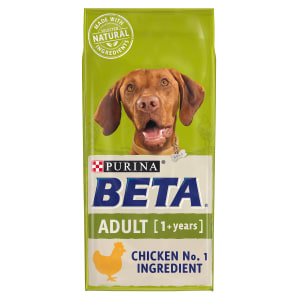 Product details

Purina Beta's Dog Food recipes are rich in meat that dogs need and instinctively prefer. High quality Chicken, Turkey or Lamb provide natural sources of protein.

Beta's Dog Food recipes are carefully balanced with wholesome ingredients such as wholegrain cereals or rice - to provide 100% complete and balanced nutrition across the entire Beta Dog Food Product Range. The Beta's Dog Food Range has dual sized kibbles which are specially shaped and textured for longer enjoyable chewing, improved oral health and better digestion.

Beta Adult with Chicken and Rice is specifically developed for adult dogs with 25% protein, 12% fat and 23 vitamins and minerals. Rich in chicken as a natural source of protein, Beta Adult is carefully balanced with wholesome ingredients such as wholegrain cereals and rice to promote ideal body condition. It is formulated with the correct balance of nutrients for adult dogs bones, joints and teeth and to help support a healthy digestion.

Beta Adult contains the right balance of calcium, phosphorus and vitamin D to help maintain your dog's strong bones, healthy joints and teeth. Beta Adult is formulated with rice and a special combination of natural fibres from chicory and beet pulp. Rice helps make Beta easily digestible and chicory is a source of natural prebiotic, proven to help increase the number of good bacteria in the gut and improve digestive health. Beet pulp is well known to help improve stool quality.

Proper chewing helps prevent bolting and encourages healthy digestion by grinding the food up for optimal absorption of nutrients.

Ingredients:
Cereals (min 4% wholegrain, min. 4% rice), Meat and animal derivatives (min. 14% meats, min. 4% chicken), Vegetables protein extracts, Oils and fats, Derivatives of vegetable origin (min. 0.5% beet pulp), Minerals, Vegetables (min. 0.5% chicory). With antioxidants and preserved with EC additives.


Ingredients
Composition: Cereals, meat and animal derivatives (8%*), vegetable protein extracts, oils and fats, derivatives of vegetable origin, vegetables (dried chicory root 1.1%), minerals.
*Equivalent to 16% rehydrated meat and animal derivatives: minimum 4% chicken.

Additives:
Nutritional additives:
IU/kg: Vit. A: 21 000; Vit. D3: 1 200; Vit E: 100 ;
mg/kg: Vit B group: 83.5; Fe (E1): 266; I (E2): 3.3; Cu (E4): 38; Mn (E5): 20.3; Zn (E6): 429; Se (E8): 0.47.
With antioxidants.
Feeding Guide
Size of dog
Grams per day
Normal activity
More Active
Small (5-12 kg)
110-210
125-240
Medium (12-25 kg)
210-360
240-415
Large (25-45 kg)
360-560
415-640
Giant (45-70 kg)
560-780
640-900
Feeding guide: see table for recommended daily feeding amounts. These amounts are guidelines only. Adjust quantities according to your dog's activity levels, physical condition and individual needs.
Clean, fresh water should be available at all times.
Customer reviews
Product reviews are filtered by language.
The following reviews are available in English.
Tasha loves it

I have used this brand since I got Tasha as a pup as recommended by breeder. First the puppy food and then the adult food and she has grown into a beautiful healthy Cocker Spaniel

Beta Adult Chicken

Great product helps keep my dog in good condition and cleans his teeth.

BETA ADULT CHICKEN AND RICE

Excellent dog food, good nutrients and does as it says on the description

I used Beta products many years ago when breeding and showing dogs as well as Boarding kennels. I now have a Cairn Terrier x who refused to eat the food the previous owner had been feeding her on and I am very pleased to see she is enjoying the food and feel the different size of the kibble is particularly good with dental health as none of my previous dogs have had no issues with their teeth and gums and all lived to a very old age. They all had excellent coats and hard stools which is great!!

Thought I would try this food (usually feed Arden Grange)but certainly won't be using it again.The main ingredient is cereals (cheaper for manufacturer) with the result that my 2 dogs' water intake increased dramatically, even though I served the food with water added.(Try pouring hot water on a dish of this, leave for a while and you will see what I mean - like a sponge!)They ate it willingly enough, but fit, healthy dogs will eat almost any food.At the tail end - soft, smelly poo.No thanks !