Skip to content
Skip to navigation menu
BONIO Happy Fibre Biscuit Box Adult Dog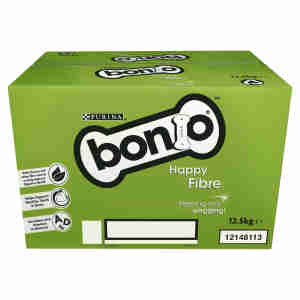 Rollover image to zoom
Product details
This BONIO Happy Fibre biscuit box helps to boost your dog's digestive health, and keep their teeth clean.
How it works
These biscuits are oven-baked, giving them a great crunchy texture that your dog will love. This texture also helps to clean their teeth and gums as it encourages chewing, which in turn prevents the build-up of plaque and tartar.
Every biscuit is packed with vitamins and minerals, so these treats make a great compliment to your dog's standard healthy diet. They've been developed by nutritionists to ensure that they get a good balance of fibres too, which help with digestion.
Key benefits
great for use as a training reward
crunchy texture encourages chewing, and cleans teeth
suitable for any time of day
full of vitamins and minerals
fibre helps your pet's digestion.
When to use it
Some dogs can suffer from digestion problems. Although not always serious, it can mean that your pooch experiences more flatulence after eating, and they might get lethargic and bloated. More serious cases of food intolerance could cause skin inflammation and vomiting. If you see any of these signs, make sure to speak to your vet as soon as possible.
These treats can help to aid your four-legged friend's digestive process, thanks to the inclusion of chicory. This dietary fibre helps their stomach to break down proteins and foods more easily, so they're less likely to suffer from excessive wind after eating. If you're training your pooch, or want them to learn a certain task, using these snacks as positive reinforcement is a great way to teach them.
The crunchy texture can also prevent tartar build-up, which otherwise might lead to bad breath, and can irritate the stomach if left untreated for too long.
Customer reviews
We're sorry but there are no reviews of this product in English.