Skip to content
Skip to navigation menu
Bakers Complete Light Weight Control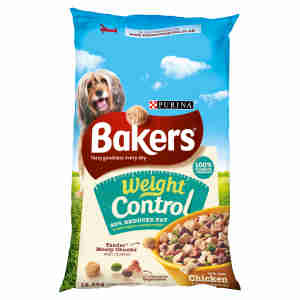 Rollover image to zoom
Bakers Complete Weight Control can help your overweight or obese dog shed pounds and get back to a healthy size.
What it's for
If your dog becomes overweight or obese, it can lead to other health problems like high blood pressure, diabetes and painful osteoarthritis. Many dogs gain weight between the ages of 5 and 10, or after they've had the snip.
Growing older (and being neutered) changes the speed at which their body burns through calories, so what used to be a regular-sized portion of food for them could now be too much. You can tell if your dog is becoming overweight by looking at them from above – they should look more like a number 8 than a 0. You should take them to the vet to get weighed if you're worried, as they'll be able to offer expert advice.
Key benefits
rich in high-quality protein to encourage lean muscle growth and faster metabolism
contains 20% less fat than regular Bakers Complete adult dog food
fortified with iron to boost blood health and vitamin D to strengthen bones
bags contain 5 or 12.5 kilograms
recipe is rich in wholegrains to keep your dog feeling satisfied after every meal
How it works
Your dog still needs lots of vitamins and nutrients to live a healthy life, even when they're on a diet. That's why reducing their portion sizes just won't cut it. This dog food is lower in calories and fat, but still has all the goodness they need to thrive.
The added vitamin D can help to strengthen bones, which may be put under pressure from the extra weight. The extra protein can help to speed up the rate at which your dog burns through calories, too. This dry food is based on wholegrain carbohydrates, which are good for the digestive system and can help your dog to feel fuller for longer – no more begging for scraps!
Customer reviews
Product reviews are filtered by language.
The following reviews are available in English.
Dogs love

Very good for the dogs

Bakers Lightweight Control

All goods I buy from Pet Supermarket are excellent for my dog I can not fault anything and as he has Diabetes this food is just the right thing for him. The service is impeccable, great to be able to shop on line, no hassle ques top get served bussling folks bumping in to you , no carrying of goods delivery service is brilliant also delivery guys are so very polite and helpful, plus you can track your order Pet Supermarket first class to deal with

Good food

My two dogs love this, keeps them.a nice weight and have had no issues with it

My dog likes the weight control Bakers but leaves some for a later time after eating as what she wants, she savours the taste for two sittings.

i think this product really works my chocolate lab had put on loads of weight so i put her on this product, over a few months on the amount she should have to lose weight she has loss 5kg she is has loads more energy & is happy i would definitly recomend this product.