Skip to content
Skip to navigation menu
Baskerville Ultra Muzzle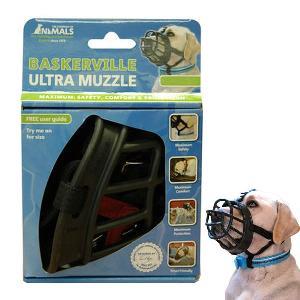 Product details
Keep your dog safe and happy by using the Baskerville Ultra muzzle when going out on walks or into worrying situations.
How it works
Dogs who become easily scared or start snapping in stressful situations can benefit from behaviour training. The shape of this muzzle allows your dog to eat, drink and pant; simply choose a length that has one centimetre of clear space at their nose. This means you can offer them treats to reward their good behaviour when training.
The Baskerville Ultra muzzle is easy to fit and is made from lightweight plastic. It can be attached to a regular collar and the overhead strap keeps it securely in place. The neoprene padding makes it comfortable to wear. If your dog becomes nervous or easily spooked in certain situations, this muzzle will stop them from snapping and keep them safe.
Key benefits
six sizes available to suit your pet
attaches to your dog's collar
allows them to eat, drink and pant
can be used while training
comfortable to wear with neoprene padding and malleable shape
secure safety strap to keep it in place
When to use it
Does your dog get nervous in new situations? Have they ever been so worried that they've started snapping? Even the most well-trained pet can become scared when confronted with an unknown animal or stressful situation. It's therefore a good idea to use a muzzle when going on walks in case they become alarmed by a human or another animal, as there can be harsh penalties for bad behaviour.
Dogs need to be supervised when wearing a muzzle, and you can ensure they're comfortable by getting the right fit. With six sizes in the collection, you can refer to the size guide to check which muzzle would be best for your pet. Use a flexible tape measure to find the length from their nose to the slope of their eyes, and measure around their snout with the mouth closed.
Sizes available are for typical adult dogs. Juveniles may need a size smaller. Baskerville height must allow mouth to open in panting; length must have 1cm clear from end of nose.
Size Guide
| | | |
| --- | --- | --- |
| Size | Length (cm) | Circumference (cm) |
| 1 | 6 | 22 |
| 2 | 7.5 | 26.6 |
| 3 | 8 | 28 |
| 4 | 9 | 31.5 |
| 5 | 12 | 35 |
| 6 | 13 | 41 |
Sizing: Using a soft measuring tape, measure the length of your dog's snout from the end of his nose to the point where the snout starts to slope upwards to the eyes as shown in the drawing below. Then, measure around the widest part of your dog's snout while his mouth is closed.
Customer reviews
We're sorry but there are no reviews of this product in English.