Skip to content
Skip to navigation menu
You have setup the following Repeat Order: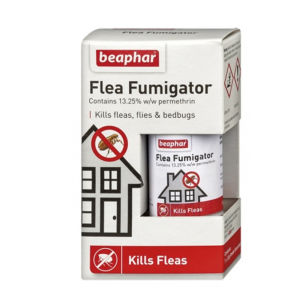 Product details
Beaphar Flea Fumigator is a fantastic hassle free way to treat flea infestations in your home. Using the spark free fuse system, simply ignite and leave in your room for a couple of hours while the fumigator does its work exterminating the fleas. Great also for killing flies, mosquitoes, wasps, moths, cockroaches and bed bugs, the Beaphar Flea Fumigator is the best option for pest control in your home!
Ingredients
Additional Information
For best results fumigate in the late afternoon and leave the house or building for a minimum period of 2 hours.
1. Consider how many fumers you need for the room to be treated (consult 'Rate of application'). Heavy infestations may require more than one application.
2. Clear people and animals including fish from the room before use.
3. Place canister(s) spaced out on the floor surface on a heat resistant surface e.g. a plate on top of a sheet of aluminium foil 50cm x 50cm. IMPORTANT: THIS PRODUCT MAY EMIT SOME SPARKS UPON IGNITION. CAUTION MUST BE TAKEN WHEN LIGHTING THE PRODUCT.
4. Make the area to be fumigated as smoke tight as possible by closing all windows etc.
5. Open canister(s) and light the fuse on the canister furthest from your exit point first, then light the next fumer and move towards your exit point. Close the door on exit, it is not necessary to seal the door with tape. 6 Leave for at least 2 hours but preferably overnight and then ventilate the room thoroughly. 7 For severe infestations fumigate 3 times at 5 to 7 day intervals.
Customer reviews
Product reviews are filtered by language.
The following reviews are available in English.
Thank god

Was sick of getting up in the morning and being the fleas breackfast,,, , as iv just move in with my mother after being away for a while, she has 4 cats and the place was infested, i react to a bite and my mother dose, so never realised she had fleas,,, so ordered and got exactly what it said on the box,, after using the product,, we are at last flea free and walk about in short,, not trousers stuffed in socks lol,,,,,,, many thanks

Great item

very effective product much better than others of the same ilk. Would recommend to anyone.