Skip to content
Skip to navigation menu
Beaphar Xtravital Degu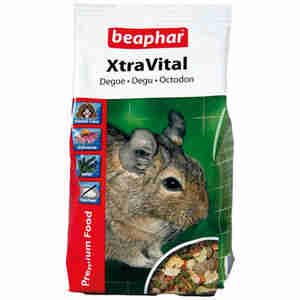 Product details
Beaphar Xtravital Degu complete, premium small animal food. Made with best quality ingredients, and supplied in gas-flushed resealable packets for maximum freshness and palatability. Xtravital is low in sugar, as there is a tendency for degus to be very sugar sensitive, and develop problems. Xtravital is one of very few degu specific foods available.
Customer reviews
Product reviews are filtered by language.
The following reviews are available in English.
My goos love this. They know the sound of the box I keep it in opening and they get very excited at feeding time. They even jump into the box as I hold it to their cage, choosing their favourite bite to nab first and then they run off and hide them in their cage.

My 6 degu love this food, always empty bowls.

This degu food is excellent and is a well balanced variety of the things that degus need. My degu's go crazy for it and I know they would never switch back to anything else. The locust beans within the food which make up most of the sugar content make up only around 1% of the diet which makes it completely safe for degus.

IMO this used to be the best degu food on the market with a balanced mix of grains, "corn flakes", seed pods and manufactured food. Unfortunately each batch I've bought over the last couple of years has increased the amount of grain and reduced other ingredients to the point that our degus now leave most of it. I've taken to mixing this with other brands of food for variety.

i was giving my goos degu nuggets and they just didn't seem to like them or want them, was wasting the food and money spent, so i've no switched to Beaphar Xtravital Degu, and they love it.. empty bowls after feeding for the first time in ages, i am a little concerned about reading just now that's it's "low in sugar", it should be "NO SUGAR" they aren't just sensitive to surgar, they are prone to diabites and shouldn't have any at all.. hoping for the best as i got 2 bags