Skip to content
Skip to navigation menu
Beyond Simply 9 Adult Dry Dog Food Rich In Lamb With Whole Barley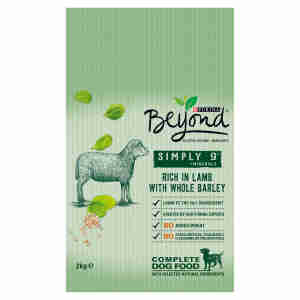 Product details
Beyond® Simply 9® adult dry dog food rich in lamb with barley is a completely natural food that's easy on your pooch's tummy.
What's it for
This complete mix is a natural food that you can give to your pet daily. It's tasty and full of goodness, helping them to live a healthy, happy lifestyle.
Remember to check the feeding instructions on the packet before giving your dog this mix. Required amounts depend on your pet's weight and breed. Beyond Simply is tailored to adult dogs so it might not be suitable for older pooches or puppies. Speak to your vet if you're not sure if it's right for your dog, as they'll be able to recommend an alternative.
Key benefits
available in two kilogram and ten kilogram bags
contains nine all-natural ingredients
features omega-6 fatty acids to help support coat health
doesn't contain corn, wheat or soy
real lamb is the main ingredient
features brewer's rice and barley, both easily digestible sources of fibre
free from artificial colours, flavours and preservatives
How it works
Beyond Simply is a natural food that's gentle on your pet's stomach. It's made using all-natural ingredients, without wheat, corn or soy. These are the most common causes of allergies, so ruling them out of your dog's diet is a good way to prevent an upset tummy.
Real lamb is the key ingredient, giving this complete food a tasty flavour. This also gives your pooch a boost of amino acids, which are essential for building lean muscle mass. Added antioxidants support your dog's immune system, keeping them healthy and fighting off illnesses, while omega-6 fatty acids help to keep their skin strong and their coat shiny and glossy.
Ingredients
Ingredients: Lamb* (16.5%), Whole Barley** (18%), Dehydrated Chicken Protein, Oat Groats**, Rice**, Poultry Fat, Digest, Dehydrated Lamb Protein (2%), Dried Spinach (0.5%), Minerals. **Cereals (51%) *Natural ingredients

Analytical Constituents: Protein 25.0%, Fat content 15.0%, Omega 6 fatty acid: Linoleic acid 2.0%, Crude ash 7.5%, Crude fibres 3.0%, Additives , Nutritional Additives: , IU/kg: , Vit. A: 21 000, Vit. D3: 680, Vit. E: 110, mg/kg: Ferrous sulphate monohydrate: 220, Calcium iodate anhydrous: 2.8, Cupric sulphate penthaydrate: 44, Manganous sulphate monohydrate: 105, Zinc sulphate monohydrate: 370, Sodium selenite: 0.26. With antioxidants.
Customer reviews
We're sorry but there are no reviews of this product in English.