Skip to content
Skip to navigation menu
Blue Tartan Bow For Large Dogs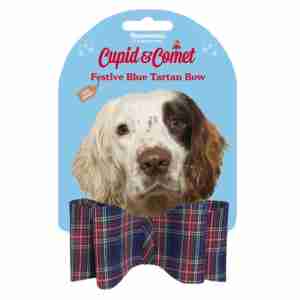 Rollover image to zoom
Product details
There'll be smiles all round this Christmas when you dress your large breed dog up in this festive blue tartan bow.
How it works
This low-key fancy dress bow is a great alternative to scratchy Christmas jumpers for dogs who aren't keen on dressing up. With a festive blue tartan print, it's perfect for Christmas and all the holidays that crop up in winter, like Burns Night and Hogmanay.
Simply slip this bow onto your dog's collar and arrange it so it looks smart. Nonintrusive and made from material that's soft against their skin, they might not even notice it's there. This product comes in a large size, designed to fit big dogs like English mastiffs and Bernese mountain dogs.
Key benefits
perfect for dressing up at Christmas
size: 14 x 7 centimetres
fits large breed dogs
easily slips onto your dog's collar
blue tartan design works at Christmas, as well as Scottish winter holidays like Hogmanay, St. Andrew's Day and Burns Night
When to use it
Christmas is the time for family fun. You can get your dog involved in the festivities by dressing them up in this blue blow. It's sure to impress guests at festive parties too.
Remember that the busyness of Christmas can be stressful for animals. Lots of strange people and smells can make them feel uncomfortable, so make sure you provide lots of distractions, like favourite toys and snacks, as well as a quiet, safe place for them to retreat to when they're feeling overwhelmed. If you've noticed your dog has nervous tendencies and you're concerned about their anxiety, speak with your vet about a course of action.