Skip to content
Skip to navigation menu
Burns Puppy Mini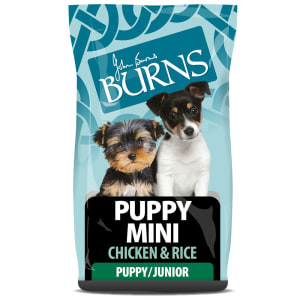 Product details

Burns Real Food for dogs is based around a home-made diet, and was developed because of John Burns' concerns over the quality and type of ingredients being used in many commercial dog foods. All Burns diets for dogs are hypo-allergenic and free from artificial flavourings, colourings and preservatives.

Burns Mini Bites is a hypo-allergenic puppy food suitable from 3 weeks until 6 months. It is also suitable for toy breed adults and those with food intolerances.

Burns Mini Bites contain controlled levels of protein, fat and minerals to ensure that requirements for energy, muscle and bone development are met but not exceeded. This can reduce the risk of adult related health problems such as hip dysplacia, skeletal disorders and obesity.

It is well established that high intakes of protein and fat during puppyhood can lead to health problems in the adult, for example obesity and skeletal disorders, especially hip dysplasia. Rapid growth can produce heavy muscle mass, which puts undue strain on immature bones. Over-nutrition during growth can also cause behaviour problems, especially hyperactivity.

Ingredients:
Brown Rice, Chicken, Meat Meal, White Rice, Oats, Peas, Chicken Oil, Sunflower Oil, Ocean Fish, Seaweed, Vitamins and Minerals

Typical Analysis:
Protein 21.0%, Oil 11.0%, Fibre 2.0%, Ash 7.0%, Vit A 10000 iu/kg, Vit D 1500 iu/kg, Vit E 80 iu/kg, Moisture 9%, Copper 15mg/kg, Sodium 0.52%, Calcium 1.45%, Phosphorus 1.0%, Magnesium 0.10%.


Customer reviews
Product reviews are filtered by language.
The following reviews are available in English.
Burns mini puppy

My puppies love this food obvious the taste , and mainly because the smaller kibble , it's loads easier for them to eat

Excellent product. First Class service. Quick delivery and Free P&P !

My much loved 15 year Westie "Darcey" has always eaten Burns and after a very active life still remains well and healthy.

My two Yorkies have been on Burns since they were pups. They are now 14yrs. Ecsept for slight arthritus they are great. Thank you Mr. Burns.

Our puppy aged 10 months, has been on Burns Mini Puppy food since birth & recommended by the breeder. He loves it & has been very happy on it. No upset stomachs or anything. Our Vet said it is very good food. x

Our yorkie pup slightly hyperand had very runny stools, on the advise of the dog trainer I gave these a try and his tummy has settled down great. They are nice and small and I also give them to my 16 year old yorkie too