Skip to content
Skip to navigation menu
Calmex for Dogs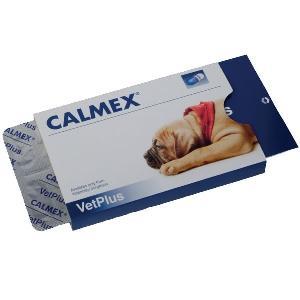 Product details
Stressed out pet? Relieve their anxiety with Calmex for dogs.
How it works
This supplement is designed to reduce stress and anxiety in dogs. It contains B vitamins to support the nervous system, alongside essential amino acids l-theanine and l-tryptophan that precipitate the release of serotonin in the brain, resulting in a calming effect. You can give it to your dog in capsule form, or mix it in with their food if they refuse to take it.
It's recommended that you give smaller dogs weighing under ten kilograms just half a capsule, while larger breeds (between 55-70 kilograms) can have three capsules. Don't exceed the suggested double dose in a 24-hour period and avoid using this supplement as a long-term solution for your dog's anxiety. Instead, seek advice and a treatment plan from your vet.
Key benefits
reduces stress and anxiety in dogs
comes in capsule form to be given whole or mixed with food
contains amino acids for a natural calming effect
nervous system function is supported by B vitamins
suitable for occasional use
When to use it
There may be a number of reasons why your dog is stressed or anxious. Some breeds, like King Charles spaniels and German shepherds, are more prone to anxiety than others. A house move, fireworks or loud building works next door are all valid reasons why your dog feels unsettled. Loud noises can upset their balance, while unfamiliar surrounding might result in withdrawal and uncertainty. Symptoms of anxiety can include scratching, escape attempts, hiding and whining. You can help combat this stress by playing calming music, fussing your pet and making sure they get lots of exercise. There are times, though, when you might need a helping hand, and that's where Calmex comes in. If possible, feed this supplement to your dog in anticipation of stressful situations to calm their nerves.
Customer reviews
Product reviews are filtered by language.
The following reviews are available in English.
Life savers!

Our dog has the start of dementia and was keeping us up most of the night but since taking these it has been a miracle!

Works well.

Our very aged large dog 7 stone! often has poor nights. 2 of these Calmex capsules hidden as best we can in a lump of chicken! do the trick. Just bought another big box of them. So, what more can I say......other than perhaps I should try them myself??

Pleased with deal.

Very happy to be offered 15% discount....so increased my usual order as a result

Worth giving it a go

Calmex was delivered quickly by Medic-animal and when I rang Medic-animal with a question the vet was really very helpful. I think the product helped calm my dog down a bit but next time I'll give 2 tablets instead of 1 as he's at the upper end of the weight to tablet ratio and I understand this is OK. Optimum time to give tablet is 3 hours before the main stress factor. I'd prefer to give Calmex over Valerian so will use in the future.

For dogs under 10kg the dosage is half a capsule this entails breaking open a capsule and dividing the powder inside into 2 equal portions. It then states can be sprinkled over food however my dog rejected any and all foods I tried it on. I therefore believer this is unsuitable for this purpose.