Skip to content
Skip to navigation menu
Canigest Paste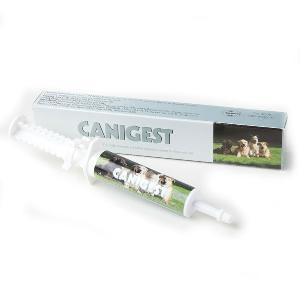 Product details
Canigest Paste is a complementary feeding stuff for dogs and cats combining a probiotic, prebiotics, glutamine, kaolin and pectin. It may be particularly suitable for feeding to dogs to assist in the nutritional management of digestive tract upsets. Probiotics may improve health conditions in dogs exposed to stress and infections. Supplementing prebiotics such as Fructo Oligosaccharides and Mannan Oligosaccharides may increase the number of friendly bacteria in the colon while reducing the population of harmful bacteria.
Kaolin and pectin act as adsorbants. Adsorbants may work by binding to harmful bacteria and toxins and removing them from the gut. Stress on the intestinal cells caused by digestive tract upsets can increase the need for glutamine as the body replaces the cells lining the intestinal tract.
Key Benefits:
Enterococcus Faecium - may be useful nutritional agent in antidiarrheal therapy
Glutamine may play a role in the health of the immune system, digestive tract, and muscle cells. It may act as a mediator in the development of intestinal epithelial cells.
Probiotics may help to re-establish levels of beneficial bacteria in the gut.

Please consult your vet for advice on the use of this product prior to use.
Customer reviews
Product reviews are filtered by language.
The following reviews are available in English.
Canigest

For the runs, I get this all the time , its great.

Excellent

When my boxer, who has multiple allergies, refuses breakfast because her tum swishes like a washing machine, just a dab of this stuff licked off my finger and then a bit put on her food, encourages her to eat and thus get rid of the gas build up. It's the best stuff I have tried, including lots from vet.

Canigest paste

Works really quickly on our dog

Excellent product, works really well in both dogs and cats.

works really well, I would recommend it to pet owners.