Skip to content
Skip to navigation menu
Capstar Flea Treatment Tablets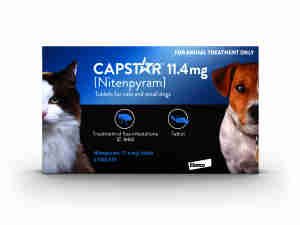 Product details
Capstar Flea Tablets get to work in 15 minutes, killing fleas on cats and dogs. The tablets kill up to 100% of fleas and there's no need to flea comb or rinse your pets coat. The treatment is easy to use, simply give the tablet to your pet directly or mix with their favourite food.

Key features
orally administered treatment
fleas begin to be killed after just 15 minutes
100% of fleas removed from pet in 24 hours
safe to give more than one treatment, but not on the same day
suitable for dogs and cats 4 weeks old and above
Capstar is only suitable for removing fleas that have already settled on your pet. As most fleas live in the home, it is recommended that you treat your home to prevent another outbreak on your pet.
**Capstar cannot be sent to the Republic of Ireland*
To ensure that you read the most up to date information about this product, please check the VMD's Product Information Database.
Legal category: AVM_GSL | Capstar Flea Treatment Tablets
Dosage
| | |
| --- | --- |
| Weight of Animal | Dosage |
| 1 - 11kg | 1 x 11.4mg Tablet |
| 11.1kg - 57kg | 1 x 57mg Tablet |
| 57kg + | 2 x 57mg Tablet |
Do not administer to pets under 1kg.
Capstar tablets should be given orally either directly into the mouth or mixed into a small portion of food and given immediately. Administer on any day when fleas are seen on the animal. No more than one treatment should be given per day.
Customer reviews
Product reviews are filtered by language.
The following reviews are available in English.
Great product

Went to vets twice with our cat who had fleas all down his spine and had bald patches and scabs. Used 2 different types of liquid back of neck treatment and although slightly better didn't clear them Came across this and it worked almost immediately As another review said that the fleas jump off I put him outside after he had taken so that they didn't reinfect him He has been clear for about 3months now and all his fur and skin returned to normal after a couple of weeks

Capstar

Good! But you still need to buy flea prevention medicine!

Capstar flea treatment

I took in 2 abandoned cats that were covered in fleas. For quick relief before using a spot on treatment I gave them the pill crushed into some food as not to stress them trying to get them to eat the whole pill. Within 15 minutes the adult fleas were falling off the cats and they were dead or dying. They did scratch a lot more for the first 30 minutes or so as the fleas were dying but then nothing since. Cannot recommend enough.

Flea treatment

Tried this as could see a few after treatment with front line plus What can I say they do what it says started noticing they were gone Great product id still use with front line though

they work

I have tried many flea treatments and these are the best.