Skip to content
Skip to navigation menu
You have setup the following Repeat Order: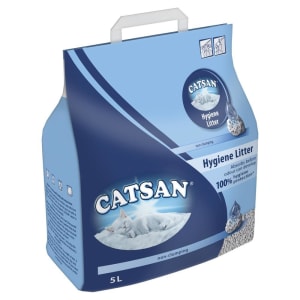 Catsan Hygiene Non-Clumping Cat Litter
Product details
Catsan white hygiene cat litter is a super absorbent tray filler that helps to keep bad smells away.
What it's for
This sparkling white litter is made from chalk and quartz and has been especially designed to absorb moisture and smells. Each granule has a huge amount of micropores, which makes it work like a sponge, soaking up moisture before any nasty smells escape and spread.
To be sure no odours develop, the cat litter includes antibacterial ingredients, which stop smell-emitting bacteria from growing. This litter has also been especially sieved to reduce residue, preventing your cat from tracking and scattering the granules throughout your home.
Similarly, the litter doesn't create much dust, even when cleaning it out, making it a great option for cat parents that suffer from asthma or dust allergies.
Key benefits
super absorbent granules that soak up nasty smells and moisture
sieved to reduce tracking and scattering
made with antibacterial ingredients to help prevent bad smells from developing
comes in ten and 20-litre bags
How it works
This Catsan white hygiene cat litter has been designed to be used instead of your usual brand. To make sure your cat takes to it, be sure to mix Catsan in with the old litter and gradually introduce your furry friend to it. It's also important you keep the litter box in the same place, so that your cat feels comfortable and safe using it.
Clean out any waste and lumps on a daily basis to make sure the cat litter works effectively and to change the whole tray when necessary. If your house has underfloor heating, you'll have to put a wood mat or insulating styrofoam under the box to make sure the granules don't heat up and release bad odours.