Skip to content
Skip to navigation menu
Cestem Flavoured Worming Tablet for Large Dogs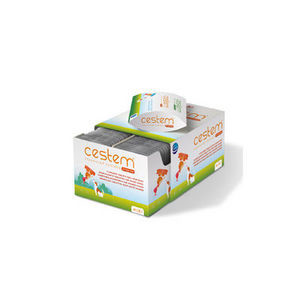 Product details
Cestem Worming Tablets for Large Dogs treat and protect your pet from tapeworm, roundworm, ascarids and hookworm. Additionally, the three chemical ingredients (Febantel, Pyrantel and Praziquantel) stop the worms from contaminating the surrounding area with parasites that can harm humans. Each tablet has a palatable liver flavouring, making it easier to get your dog to take the treatment.
Key features
3 different ingredients (Febantel, Pyrantel and Praziquantel) to protect your dog
Kills and protects against tapeworm, roundworm, ascarids and hookworm
Tasty liver flavour
Suitable for dogs weighing over 17.5kg
Dogs should be wormed every 3 - 6 months to keep them healthy and worm free.
Please be aware that this medicine can only be supplied for a maximum of one year treatment per animal.
Ingredients
Each large dog tablet contains 525mg febantel, 175mg pyrantel and 175mg praziquantel with a liver flavouring.
Warnings
Not suitable for puppies that weigh less than 3kg. Do not use Cestem on pregnant bitches during the first four weeks of pregnancy. Do not use simultaneously with medicines containing piperazine.
In the event of heavy roundworm infestation a repeat dose should be given after 14 days.
Additional Information
Dosage
Administer at the first sign of worms and treat all animals at the same time. Keep your dog protected all year round by treating them once every three months.
| | |
| --- | --- |
| Body weight (kg) | Tablet quantity |
| 17.5 | ½ |
| >17.5 - 35 | 1 |
| >35 - 52.5 | 1 ½ |
| >52.5 - 70 | 2 |
Customer reviews
Product reviews are filtered by language.
The following reviews are available in English.
Cestem Large Dog Flavoured Worming Tablet

Not a great deal I can say about the products effectiveness as I would hope it works but the fact that my dog does not have worms would hopefully be testament to this. We however continue to have the same issue with every other flavoured worming tablet we've tried. Our dog will just not eat them voluntarily! So have to manually place into his mouth, hold it closed and massage his throat until it's swallowed. I don't enjoy doing this but have no other choice, so any worming manufacturers listening, your flavour is just not flavorsome enough I'm afraid.

Excellent service

No problems with order or delivery .Product reasonably priced .

good value effective tablets

Have been buying these for my large Lurcher who dislikes medication intensely! We play the "lets pretend I've swallowed it then I can spit it out" game that's the dog by the way, not me! and once I tire of that and hide the tablet in a sliver of cheese, it's gone in a flash. Doesn't cause an upset tummy like some brands which I have tried him with in the past and avoids all the mess of using a paste. Good value, great service...shall continue to use medicanimal as they are much cheaper than many competitors.

Cestem works

i've been using these for my dogs for a while now and never had a problem

dogs take it easily

Considering the cost of these tablets from a vet ,I like the price and they do the job.