Skip to content
Skip to navigation menu
Cestem Flavoured Worming Tablet for Small & Medium Dogs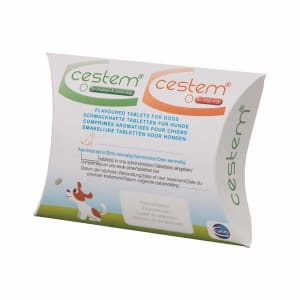 Product details
Cestem Worming Tablets treat and protect your dog from all common intestinal worms that are found in the UK. The combination of 3 different ingredients kill the worms in your dog, as well as preventing environmental contamination from parasites that can cause severe illness in humans. Each tablet has a tasty liver flavour, making them that little bit easier to feed to your dog.
Key features
3 different ingredients (Febantel, Pyrantel and Praziquantel) to protect your dog
Kills and protects against tapeworm, roundworm, ascarids and hookworm
Tasty liver flavour
Suitable for dogs from 3 – 20kg
For dogs over 15kg, Cestem for Large Dogs is recommended.
Please be aware that this medicine can only be supplied for a maximum of one year treatment per animal.
Ingredients
150mg febantel, 50mg pyrantel and 50mg praziquantel with a liver flavouring.
Warnings
Do not use in puppies of less than 3 kg bodyweight. Do not use in pregnant bitches during the first 4 weeks of pregnancy
In the event of a heavy roundworm infestation, a repeat dose should be given after 14 days.
Additional Information
Dosage
Administer at the first sign of worms and/or every 3 months to keep your dog protected all year round.
| | |
| --- | --- |
| Weight of dog (kg) | Dosage |
| 3 - 5 | ½ a tablet |
| 5 - 10 | 1 tablet |
| 10 - 15 | 1½ tablets |
| 15 - 20 | 2 tablets |
Customer reviews
Product reviews are filtered by language.
The following reviews are available in English.
Easy to administer

I always use a worker for my dogs as one is a scavenger. Had not used this brand before, but the dogs are it all be it wrapped in a bit of salami lol No side effects whatsoever. Will use again as usually they manage to spit it out but not this one. So it gives me peace of mind.

Bought this being cheap for both my dogs and it did not work. My bitch dragged her arse feeling really itchy and in so much pain.Stick to expensive products like Bob Martin

Great value and didn't upset my boys tummies :-) Still had to hide them in cheese tho, think iv fussy dogs but will definately buy again x

Great value for money, does the job of the more expensive products on the market, which I had been using until I found Cestem.

i got this tablets cause some wormers make two of my dogs ill so i thought i would try this and im so happy no sickness