Skip to content
Skip to navigation menu
CortaFlex Powder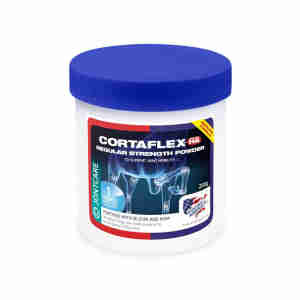 Rollover image to zoom
Product details

Constant pounding on artificial, hard or heavy ground is very demanding on joints - even hacking can cause abnormal wear and tear. Feeding a joint supplement may help to redress the balance and support healthy joint function.

Cortaflex Equine Powder out performs all other horse joint supplements in both speed of action and efficiency. Now containing Hyaluronic Acid - an important ingredient in joint lubricating fluid - essential for absorbing concussion and providing cartilage with nutrients and lubrication for movement - Cortaflex Equine Powder is the No 1 Joint nutraceutical.

Cortaflex Equine Powder may nutritionally support the health of every joint in the body, providing nutrients for lubrication and flexibility

In a double blind test, 100% of the trial horses and ponies using Cortaflex showed a substantial improvement in stride length within days.

Available in 3 sizes - 454gn (2 months supply), 908g (4 months supply) and 3.6kg (16 month supply)

Ingredients:
Key isolates of Glucosamine and Chondroitin which include Glutamine, Glucuronic Acid, Glutamic Acid, Proline and Glycine. Cortaflex is now also fortified with Hyaluronic Acid, a major component of joint lubricating fluid. Also contains Methylsulphonylmethane (M.S.M.) to assist the passage through the cell walls.