Skip to content
Skip to navigation menu
Cortaflex Canine/Feline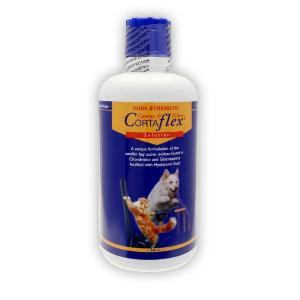 Product details

Cortaflex Canine/Feline is a unique and fast acting blend of safe, natural ingredients which has truly redefined nutritional joint therapy.

Cortaflex Canine/Feline has a unique formulation of the smaller key active isolates of Chondroitin and Glucosamine (Glutamine, Proline, Glycine, Glucuronic Acid, Glutamic Acid) and should not be confused or compared with the many joint supplements that rely on the larger Chondroitin and Glucosamine molecules.

Cortaflex is an effective joint supplement that contains the key refined, pharmaceutical-grade isolates of Chondroitin and Glucosamine. These smaller molecules are easily absorbed into the bloodstream, where they filter through the capillaries to their intended destination the joints!

Once the key isolates are present in the joints, they trigger the body to produce its own natural Chondroitin and Glucosamine. Cortaflex provides both the stimulus and building blocks for natural joint health that is the Cortaflex difference.

Cortaflex is safe for dogs and cats of all ages and physical conditions. It is a supplement for natural joint health. If you want your pets to maintain a happy, healthy life, then Cortaflex is the choice for you.

Ingredients:
Water, Dextrose, Soy Protein Hydrolysate, Hyaluronic Acid, Mucopolysaccharides, Glycine, L-Glutamine, Glucuronic Acid, Glutamic Acid, L-Proline, L-Alanine, L-Arginine, L-Serine,Aspartic Acid, Manganese Sulphate, Pyridoxine HCl (Vitamin B6),Ascorbic Acid (VitaminC), Sulphur, Xanthan Gum, Preserved with Ammonium Propionate, Natural and Synthesized flavouring.


Customer reviews
Product reviews are filtered by language.
The following reviews are available in English.
Miracle Liquid!

I've given Cortaflex to 2 cats and 1 dog over a number of years. In each case, mobility has vastly improved. In one case, I had a cat whose hip buckled whenever he tried to walk on concrete: after putting him on Cortaflex and giving it a few weeks to work it's magic, it never happened again - for the rest of his life which was several years. I would highly recommend this for any cat or dog showing any signs of joint stiffness, and, although it appears expensive, the bottle lasts for ever, so it's actually very reasonably priced.

seems to work

Our cat lost a leg after a road accident several years ago. He got run over again last autumn (!) and after that was very slow to walk again and could not jump at all. It's impossible to say if he gained better mobility because of the Cortaflex or if he would have improved simply with time but he is happy and more sprightly than he was a few weeks ago and is beginning to try to jump again.