Skip to content
Skip to navigation menu
Cosequin Double Strength Chewable Tablets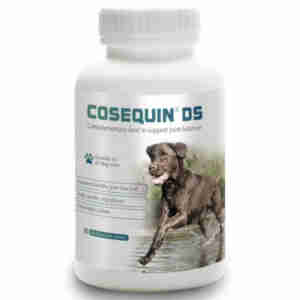 Rollover image to zoom
Product details

Cosequin is a nutritional arthritis supplement to help dogs maintain healthy joints

Cosequin contains a unique combination of active ingredients that support the cartilage for use in arthritis.

Glucosamine Hydrochloride supports the secretion of GAGs (Glycosaminoglycans) produced by cartilage cells from glucose. Chondroitin sulphate binds with collagen for tensile strength and control of water content. Manganese ascorbate is a necessary co-factor for GAG and collagen synthesis and if deficient, collagen fibres cannot be cross linked, which greatly decreases the tensile strength of the fibres.

Through the combination of actions of these three ingredients, Cosequin supports normal joint function. Cosequin Double Strength (DS) Giant Chewable Tablets are designed for large breed dogs (26-50kg)

Directions for Initial Loading Programme for 4-6 weeks:
Medium Dogs (10-25kg) - Loading 2 capsules daily
Large Dogs (25-50kg) - Loading 3 capsules daily
Giant Dogs (Over 50kg) - Loading 4 capsules daily
Directions for Maintenance Programme (After 4-6 weeks Loading)
This should be done gradually in 0.5-1 tablet steps.
Medium Dogs (10-25kg) - Maintenance 1 tablet daily
Large Dogs (25-50kg) - Maintenance 1-2 tablets daily
Giant Dogs (Over 50kg) - Maintenance 2 tablets daily


Do not alter the Cosequin amount more than once a month. The tablets can be fed directly to your pet or crumbled and mixed with food.

For finicky pets the tablets may also be given with their favourite treat.