Skip to content
Skip to navigation menu
Cystophan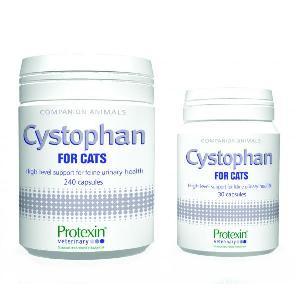 Product details
High level support for feline urinary health
A recenthypothesis suggests that Feline Idiopathic Cystitis (FIC) may be due to analteration in the bladder's neuronal supply, the protective glycosaminoglycan(GAG) layer and components within the urine. Cats with FIC are known to havequalitative or quantitative abnormalities in their protective GAG layer, andthey have been shown to have decreased urine concentrations of GAGs and increasedbladder wall permeability. GAG supplements aim to restore this defective GAGlayer.
Cystophan contains:
N-acetyl D-glucosamine


A GAG precursor which acts as the building block for GAGs such as chondroitin sulphate.

Hyaluronic acid


One of the main components of the protective GAG layer, acting as a scaffold for the whole structure.

L-tryptophan


An amino acid which is converted into serotonin. Serotonin is an inhibitory neurotransmitter which regulates mood and anxiety. L-tryptophan has been shown to reduce stress-related behaviour and anxiety levels in cats.

Artificial chicken flavouring


To improve palatability and compliance.
Cystophanis available in tubs of 30 and 240 capsules.
Each CapsuleContains:
N-acetyl D-glucosamine (125mg)
L-tryptophan (37.5mg)
Hyaluronic acid (10mg)
Additives:
Amino Acids: L-tryptophan
Composition:
N-acetyl D-glucosamine, Gelatine capsule, Hyaluronic acid, Magnesium stearate
The capsules can be given whole or opened,and the palatable contents sprinkled onto food.
Initially administeraccording to the guidelines below for at least two weeks:
Cats ≤3kg 1 capsule daily
Cats >3kg 2 capsules daily
For maintenance,administer according to the guidelines below:
Cats ≤3kg 1 capsule every other day
Cats >3kg 1 capsule daily
Give for as long as considered necessary or asadvised by your veterinary surgeon.
Customer reviews
Product reviews are filtered by language.
The following reviews are available in English.
Seems to be working.

I started giving my elderly little cat Cystophan after she'd recovered from a bad urinary infection, and my Vet recommended it as maintenance to keep her waterworks healthy. She takes one capsule every other day and swallows it quite easily, this could also be broken in half and sprinkled over food. So far thankfully there have been no further health problems.