Skip to content
Skip to navigation menu
Dentagen Toothpaste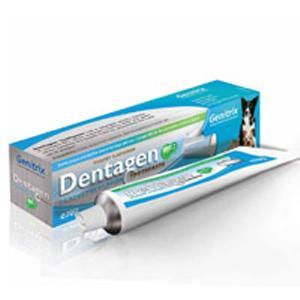 Product details
Ingredients
Aqua, Sorbitol, Dlcalciumphosphate dihydrate, hydrated silica, rheum palmatum (Source of RF2), sodiumcarboxymethyl cellulose, propylene glycol, phenoxyethanol. sodium saccharin,flavour, methylparaben, propylparaben
Description
Dentagen Toothpaste has been designedspecifically for dogs and cats and has been tested to ISO 11 609 standard. Theresulting toothpaste has a dentifrice abrasivity index (RDA) of 34. ContainsRF2
Dogs and cats have much lowerenamel thickness than humans and so this lower abrasivity score safeguardsagainst damage to the enamel layer of the teeth whilst providing sufficientmechanical cleaning action to remove plaque.
RF2 is not bactericidal and allowsthe natural and healthy mouth and gut flora to exist without promoting dentaldisease. It inhibits plaque formation between brushing times No othertoothpaste has this inhibitory effect.
Every tube is packaged with afinger-brush to allow clients to initiate brushing their pet's teeth.
Instructions
Using the finger brush supplied,apply the Dentagen Toothpaste to the gingival margin (gum line) of your pet'steeth, once a day. Start by gently brushing the outer surfaces of teeth at theback of the mouth, moving towards the front, before brushing the innersurfaces.
Precautions
Keep away from Children. Notintended for human use.
Customer reviews
Product reviews are filtered by language.
The following reviews are available in English.
My dog loves this toothapste

I used to use other toothpastes on my dog's teeth but he still got a build up of plaque. I changed to this one and the difference is noticeable, his teeth are white, clean and virtually no plaque to be seen! It's doesn't have any noticeable smell to the toothpaste and he happily allows me to put it on all his teeth and gums daily.

Sorry bug my dogs loved getting there teeth cleaned. They usually have logic toothpaste. Thought I'd try this one & regret it worked out expensive as they dislike it. Instead of sitting (usually pushing each other to get their teeth cleaned first) they run away moment I take the lid off the tube. Bi

The brush it comes with is good. Small but good. Have to use my little finger. The tooth paste is not good, neither one of my dogs can even get close to smelling it. Shame considering the price of it!