Skip to content
Skip to navigation menu
Dorwest Scullcap and Valerian Tablets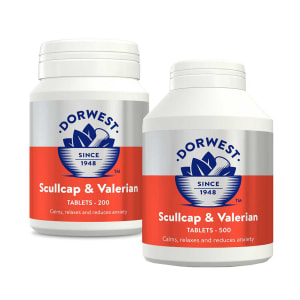 Product details

A licensed herbal medicine for the symptomatic relief of anxiety, nervousness, excitability and travel sickness, and an adjunct in the treatment of epilepsy in dogs and cats. The ultimate herbal combination in a sugar-coated tablet, invaluable to calm and relax dogs and cats suffering from excitability, apprehension, phobias or hyperactivity.

Widely used and particularly effective for those suffering from noise phobias as a result of fireworks, thunderstorms or gunfire. Does not cause drowsiness or impair normal behaviour or performance, making it suitable for those who just need to be settled for showing, travelling, training or obedience work.

Given before a journey this tablet will calm nervous travellers but is also ideal if new surroundings and situations cause apprehension or anxiety, making it a useful training aid for young dogs being introduced to the show ring as well as thunderstorms, fireworks, visits to the vet etc. In cats, it is also effective in the control of territorial spraying by keeping the cat relaxed and so reducing the urge to mark territory.

This is more often a problem in neutered males but is a behaviour that can also be found in dominant females also. Under veterinary supervision Scullcap & Valerian tablets are used in the control of epilepsy, often in conjunction with orthodox anti-convulsant drugs. Not recommended for pregnant or lactating females.

Ingredients:
Powdered Extract Valerian 5:1 50mg, Powdered Extract Mistletoe 3:1 50mg, Powdered Scullcap 30mg, Powdered Extract Gentian 2:1 24mg



Directions:

The tablets are sugar coated for easy administration and can be fed directly into the mouth or added to the daily feed. They can be given from 8 weeks of age.




For severe cases the tablets can be used in conjunction with Dorwest Organic Valerian Compound. Not recommended for pregnant or lactating females. Dosage: 1 -2 tablets per 5kg bodyweight daily. For one off occasions use 2 tablets per 5kg of bodyweight 12 hours before and again 2 hours before the desired effect is required.
To ensure that you read the most up to date information about this product, please check the VMD's Product Information Database.
Legal category: AVM_GSL | Product Information Database
Customer reviews
Product reviews are filtered by language.
The following reviews are available in English.
Helps settle my anxious dog

After trying so many things to help my wee dog with her noise phobia & getting worried about the start of firework season I had almost given up hope of finding anything to help her, until now. My wee dog is so much less anxious around loud noises so I have hope that we will make it through firework season without the need for medical help from the vet. My vet is really pleased how well she is now coping so I am hoping that this year the fireworks will be less stressful for my wee girl.

Helps settle my anxious dog

Found something that works at last

Calms my anxious and easily stressed cat

Prior to finding this product my cat had anxiety issues and would over groom to the extent of making himself bald and would not settle. He was half bald when I adopted him from a rescue centre and was picked on by the other cats. I tried various things - prescribed, over the counter and herbal. These tablets are the only thing that calms him. They were originally prescribed - one tablet a day, by the vet after nothing else worked. I tried taking him off them but the anxiety soon returned and the vet advised taking them long term. The vet assured me they are safe as they are herbal. Occasionally my cat may need a calming injection if something triggers stress but this is rare, maybe annually. I now have a happy, stress free cat with a full coat of fur.

WILL THIS WORK?

My 8 month old Greek rescue dog, is severely travel sick (goodness only knows how she survived her trip to the UK). We have tried all sorts of things and the vets haven't been much help to be honest. I have researched these pills and gave her 5 tablets, which must be palatable as she ate them out of my hand and also sprayed some calming spray on a bandana. She was sick after our two hour journey, but recovered well. Unfortunately, my husband thought I'd given her the pills and I thought that he had and between us we didn't give her the pills on our return journey. The result was horrendous as she was so very sick, much more so than our outward journey, proving that these Homeopathic pills did help.

This really does work for our Shih Tzu & takes a few days to get into her system but it calms her down.We are very pleased with the results & its natural