Skip to content
Skip to navigation menu
Drinkwell Big Dog Fountain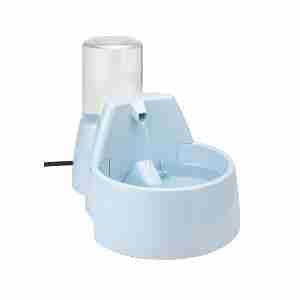 Product details

The Big Dog Drinkwell Fountain is for medium to large dogs and has a patented free falling stream, that is most like the running water dogs love. The Big Dog Drinkwell Fountain hold 8.5L of water and comes with an additional capacity reservoir included. The fountain was designed and patented by a licensed veterinarian, Dr. Mary Burns, to satisfy a pets urge for running water. The fountain filters and aerates continuously moving water to keep it fresher and cooler than standing bowl water. The product helps maintain proper hydration in pets, an essential ingredient for keeping pets healthy. Big Dog has 5 inch side walls to create a deep pool of water which prevents splashing.

* Provides a continuous 5inch falling stream of water
* Adjustable flow rate
* Three pin plug fits standard household outlet
* Holds 8.5L of water
* Charcoal filters absorb unwanted tastes and odours
* Completely dismantles for cleaning
* Lid snaps in place to prevent accidental removal
* No assembly required
* Rubber feet to prevent sliding
* 30-day money back guarantee
* One year warranty

Research shows that one of the best ways to improve a pets health is to encourage the pet to drink more water. By using a 5-inch falling stream to break the surface tension of the water, the Drinkwell Pet Fountain continually aerates a pets water with healthful oxygen. Aerated water tastes fresher and you can even see it working as tiny bubbles appear in the water. A charcoal filter removes bad tastes and odours giving the pet the best possible and most appealing way to stay hydrated!

Replacement filters are available in a three-pack and should be changed every six to eight weeks. The fountain is quality built to last a lifetime, with the housing and bowl made in the U.S.A, and the fountain pump Made in Italy. The entire product is UL, CUL and CE certified to ensure safe operation for your customers.

The product is sold with a one-year warranty. A detailed instruction manual accompanies each fountain providing operating instructions, cleaning and maintenance instructions, tips for use, safety instructions and warranty details.

(The Original Drinkwell Pet Fountain is the better option for cats and small dogs).


Customer reviews
Product reviews are filtered by language.
The following reviews are available in English.
BIG BOY DRINK FOUNTAIN

I already have one and I swear by it, so much so that I have brought this one as a christmas gift for a dear friend and her three dogs.

This is a huge success! Have bassets and was constantly topping up. Bit noisey but now used to it. Wanted to rush

This product is fantastic, I have two Bulldogs that drink a lot of water and with this, I only need to fill every few days without worrying. I have had mine for a year and it is still working perfectly, I strongly advise any dog owner to get one.

Very we'll made and a lot bigger than I expected it to be I have a GSD who every time he drank would drip and splash the water all over the floor but This bowl has prevented soaking wet socks incidences! He loves the water fountain part... You can turn flow control up and down for filter action and I have to have his at full flow... I do wonder how much electricity it uses being on all day and he does look at me funny when he can't get to the nice cold water .

bought one of these about 3 years ago , and my dogs love it , some use the bowl and some use the fountain bit ,ideal if you have a few doggies