Skip to content
Skip to navigation menu
You have setup the following Repeat Order: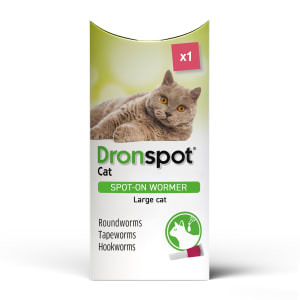 Dronspot Spot Wormer for Large Cats (5 to 8kg)
Product details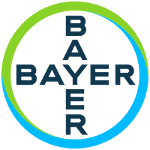 Trusted Supplier
Dronspot is a spot on worming treatment for cats. Intestinal worms can easily be picked up by your cat from eating microscopic worm eggs from the environment, from hunting or from swallowing infected fleas when grooming. Kittens can even pick roundworms up from their mum when they suckle her milk.
Dronspot takes the stress out of the worming routine. It's a simple treatment that is applied at least once every three months to keep worms at bay.
Key features:
Spot-on treatment for prevention and treatment of worms in cats
Use once every 3 months to keep your cat worm free
Easy application, no tablets.
Fleas can spread tapeworms via their eggs so it is recommended that you routinely treat your cat for fleas to break the cycle. A spot on treatment such as Advantage 80 will treat and prevent fleas for up to 4 weeks.
Ingredients
| | |
| --- | --- |
| Dosage Size | Ingredients |
| Small cat, 0.35ml pipettes | 30mg praziquantel, 7.5mg emodepside |
| Medium cat, 0.7ml pipettes | 60mg praziquantel, 15mg emodepside |
| Large cat, 1.12ml pipettes | 96 mg praziquantel, 24 mg emodepside |
Warnings
Product Warnings:
Do not use in kittens under 8 weeks of age or weighing less than 0.5 kg.
Do not use in known cases of hypersensitivity to the active substances or to any of the excipients.
Shampooing or immersion of the animal in water directly after treatment may reduce the efficacy of the product. Treated animals therefore should not be bathed until the solution has dried.
Parasite resistance to any particular class of anthelmintic may develop following frequent, repeated use of an anthelmintic of that class.
Apply only to the skin surface and on intact skin. Do not administer orally or parenterally.
Avoid the treated cat or other cats in the household licking the site of application while it is wet.
There is limited experience on the use of the product in sick and debilitated animals. Therefore the product should not be administered to these animals.
Dosage
To apply:
Hold the pipette upright and twist off the top. Part the fur on your cat's neck at the base of the skull, until the skin is visible. Place the tip of the pipette onto the skin and squeeze until the entire contents has been released.
| | | | | |
| --- | --- | --- | --- | --- |
| Weight of Cat | Dosage | Emodepside (mg/kg of bodyweight) | Praziquantel (mg/kg of bodyweight) | Flea Treatment and Frequency |
| >0.5 - 2.5kg (small cat) | 1 x 0.35ml pipette every 3 months | 3 - 15 | 12 - 60 | Advantage 40, monthly |
| >2.5 - 5kg (medium cat) | 1 x 0.7ml pipette every 3 months | 3 - 6 | 12 - 24 | Advantage 40, monthly |
| >5 - 8kg (large cat) | 1 x 1.12ml pipette every 3 months | 3 - 4.8 | 12 - 19.2 | |
| 8kg and above | Appropriate combination of pipettes every three months | | | Appropriate combination of pipettes, monthly |
Customer reviews
Product reviews are filtered by language.
The following reviews are available in English.
Drons spot

Brilliant to use no fuss

No drama worming!

Easy to use, no fuss and lacerations as with tablets! Love this company, as no fuss to obtain a good quality product, trusting that responsible pet owners can safely choose the right option for their cat, without a trip to the vet prices are inhibiting too!for an ongoing medicine requirement.

Time, short and sweet

Bought this product as an alternative to tablets which our cat does definitely not take without a fight. Used the pipet over in a flash and not a dint to his dignity