Skip to content
Skip to navigation menu
Drontal Dog Tasty Bone Worming Tablet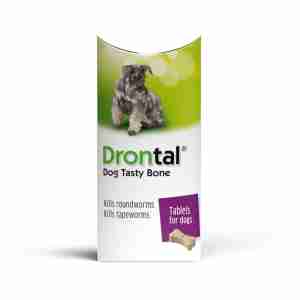 Rollover image to zoom
Product details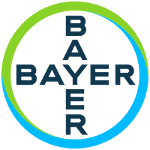 Trusted Supplier
Drontal Dog Tasty Bone Tablets are a simple way to kill most intestinal worms in dogs, with a bone-shaped design to make them more appetising to your pet.
How it works
Drontal Dog Tasty Bone Tablets target gastrointestinal parasites such as tapeworms and roundworms that rob your dog of the nutrition they need to live active and healthy lives. The active ingredients of praziquantel (the only tapeworm ingredient approved for Pet Travel Scheme (PETS) certification), pyrantel embonate and febantel get to work straight away, helping to quickly kill off the worms and prevent further harm to your pet.
The tablets can be given as a single dosage as part of routine worming, generally once every three months in adult dogs. They're designed to look like bones and have a tasty meat flavour so you can give them to your dog without hiding them in food, meaning you don't need to work around their feeding schedule.
Key benefits
fast action against common canine intestinal tapeworms and roundworms
made for ease of administration – appealing shape and taste
can give at any time, on their own or with food
can be used as a single dosage as part of routine worming.
When to use
It's fairly easy for dogs to pick up parasitical infections – tapeworms can happen after your dog swallows an infected flea, usually while grooming themselves. Common signs of worms might include vomiting, diarrhoea, or anaemia. As a general guide, it's a good idea to de-worm them every three months as adults.
Administration:
Can be given with or without food. No need for starvation before or after treatment
As well as routine worming, it is recommended to treat your dog for fleas at the same time to reduce the chances of reinfestation. Use Advantage Spot on Treatment to keep your dog protected.
Administration:
**This product cannot be purchased outside of the UK**
Please be aware that this medicine can only be supplied for a maximum of one year treatment per animal.
To ensure that you read the most up to date information about this product, please check the VMD's Product Information Database.
Legal category: NFA_VPS | Product Information Database
Ingredients
Each tablet contains 150 mg febantel, 50 mg pyrantel (equivalent to 144 mg pyrantel embonate) and 50 mg praziquantel.
Warnings
Do not use in case of hypersensitivity to the active substances or to any of the excipients. Do not use during the 1st and 2nd third of pregnancy.
Additional Information
Dosage
| | | | | |
| --- | --- | --- | --- | --- |
| Body weight (kg) | Tablet quantity | Frequency | Flea Treatment to use | Frequency |
| 2-5 | ½ | Every 3 months | | Monthly |
| >5-10 | 1 | Every 3 months | | Monthly |
| >10-15 | 1 ½ | Every 3 months | Advantage 250 | Monthly |
| >15-20 | 2 | Every 3 months | Advantage 250 | Monthly |
For each additional 5 kg body weight, administer an additional half tablet.
Administration:
The tablets can be administered with or without food.
Tablets should be given as a single administration.
The advice of a veterinarian should be sought regarding the need for and frequency of repeat treatment.
Not for use in dogs weighing less than 2 kg.
Customer reviews
Product reviews are filtered by language.
The following reviews are available in English.
Always excellent service

Always excellent service from this company competitive prices and prompt delivery

Excellent company

I wouldnt hesitate to recommend this company. I have always found their website easy to use, good prices and fast delivery. I wont be using one else for my pets.

Good service

Once again fast delivery and good pricing will continue to use pet suppermarket

Frontal for dogs

Easy to use website, product arrived quickly and safely

Drontal easy worming

An easy to administer wormer, my dog takes it in her food. It never upsets her tummy. I trust it and have used it for a long time.