Skip to content
Skip to navigation menu
Drontal Puppy Worming Suspension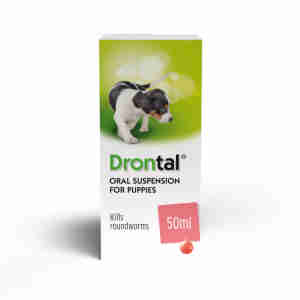 Rollover image to zoom
Please be aware that this medicine can only be supplied for a maximum of one year treatment per animal.



Unweaned puppies are hardly ever infected with tapeworms, but they are particularly at risk from roundworms, transmitted both via their mothers milk and from other pups in the litter.

Thats why puppies should be wormed every fortnight, up to 12 weeks of age. And with its highly palatable, easily administered liquid formulation, Drontal Puppy Suspension is ideal.

For the treatment and control of roundworms (ascarids), in particular Toxocara Canis, Hookworm, Ancylostoma Caninum and Whipworm Trichuris Vulpis

Directions:
Administration is by the oral route. The product may be given directly to the animal or mixed with the feed.

The dose is 1ml suspension/kg body weight (equivalent to 14.4 mg/kg pyrantel embonate and 15 mg/kg febantel).

Additional Information:
Fleas are often infected with the larvae of the Flea Tapeworm, which can be transferred to your dog by swallowing the flea while grooming. So in order to control worms, you also need to control fleas. A spot-on treatment is the easiest way to protect your dog but choose one that not only kills adult fleas on your pet, but also kills flea larvae in your pet's surroundings, to effectively break the flea lifecycle.


To ensure that you read the most up to date information about this product, please check the VMD's Product Information Database.
Legal category: NFA_VPS | Drontal Puppy Worming Suspension
Customer reviews
Product reviews are filtered by language.
The following reviews are available in English.
Drontal puppy suspension

100 % product and service and the cheapest I could find on the market.

Wormer

Good value easy suspension given to puppies and they were fine with taste.

Easy Worming

Very easy to administer, my puppy seemed to quite like it Though I don't know what "flavour" it was as I haven't tasted it!!! He took it without any fuss so no bad experience to put him off next time.

Excellent

All 9 pups didn't complain too much, when administered and even ate in their food. Not too much mess. No upset tummies. Good company service.

Excellent

Good service. Excellent value