Skip to content
Skip to navigation menu
Effipro Cat Spot On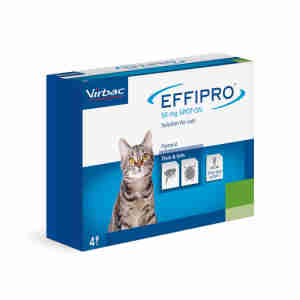 Effipro Spot On is an effective treatment for the prevention of fleas and ticks. Each application of Effipro Spot On lasts at least 4 weeks for fleas and 2 weeks for ticks.

Fleas and ticks are a widespread and permanent source of risk for all pets. They are a direct and indirect cause of certain disorders in small animals. Both fleas and ticks can infest pets and transmit serious diseases causing skin lesions, pain and infection. They can also transmit tapeworms to pets. If ticks feed on a pets blood they become engorged and they will multiply in the outside environment, not immediately on the pet. And if ticks are not eliminated they may spend between 3 and 10 days on your pet.

A one-off treatment to fight fleas and ticks is not sufficient. You should treat your pets regularly throughout the year. The occurrence of fleas and ticks in your home has nothing to do with hygiene, but there are a number of things you can do to help prevent their presence. Fleas from pets often infest the animal's basket, bedding and regular resting areas such as carpets and soft furnishings, so for optimum control of flea problems, at the beginning of the control measures, you should treat your household with a suitable insecticide and vacuum regularly.

Effipro Spot-On is based on a new formula of the tried-and-tested agent Fipronil, an insecticide and acaricide belonging to the phenylpyrazole family, which is recognized to be active against fleas and ticks, killing fleas within 24 hour and ticks usually within 48 hours. Fipronil action is fast, effective, and provides lasting protection. Fipronil-based Effipro is also practical and affordable.

And with Effipros innovative drop-free Spot-on to help you avoid getting any liquid on your fingers when opening, it couldnt be easier.

Effipro does not prevent ticks from attaching to the animals. If the animal has been treated prior to exposure to the ticks, the ticks will be killed in the first 24-48 hours after attachment. This will usually be prior to engorgement, minimising but not excluding the risk of transmission of diseases. Once dead, ticks will often drop off the animal, but any remaining ticks may be removed with a gentle pull.

Ingredients:


One 0.5 mlpipette contains :

Activesubstance:

Fipronil 50 mg

Excipients:

ButylhydroxyanisoleE320 0.1 mg/pipette

ButylhydroxytolueneE321 0.05 mg/pipett


Directions:
Apply every 4 weeks to maintain flea cover. It is important to apply the dose where the animal cannot lick off and to make sure that animals do not groom each other until after the treatment is dry.

Warning:
Do not use on kittens under 8 weeks of age.

To ensure that you read the most up to date information about this product, please check the VMD's Product Information Database.
Legal category: NFA_VPS | Effipro Cat Spot On
Customer reviews
Product reviews are filtered by language.
The following reviews are available in English.
FleasRgone.com

excellent stuff, brilliant price and fleas do not like it.

Excellent value

I have been buying this product for my two cats for quite a time. It works, with no problems and is an excellent price - what more can you ask for. I usually check online at other sites and end up back here buying again

Effipro

I have been a customer for nearly 8 years now since my cat was a kitten and have always received excellent fast and safe delivery of my items. The products are of a high quality and I know that they are safe for my cat Charlie and keep him healthy.

Effipro order

Excellent service. Very pleased with pet supermarket postal delivery. Prompt

Good service

Always pleased to use pet-supermarket. Quick efficient service