Skip to content
Skip to navigation menu
Enzymatic Toothpaste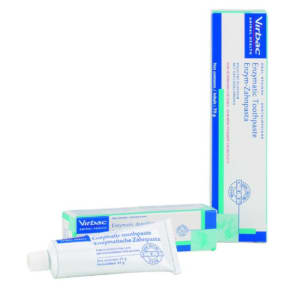 Product details
Keep your dog or cat's mouth clean and teeth healthy with this Virbac poultry or fish flavour enzymatic toothpaste.
How it works
This toothpaste has an appealing flavour, so cleaning your pet's teeth should prove much easier than usual as they'll love the taste. The formula is highly palatable and completely safe to swallow too. It doesn't need to be rinsed away as a result, which makes the whole process more straightfoward for you and your pet.
The dual enzyme action is designed to limit the formation of plaque. The mild abrasion provided by these enzymes also means that means that regular brushing actively fights tartar formation and bad breath too.
Key benefits
highly palatable
safe to swallow
flavour is appealing to your pet
dual enzyme action
fights plaque, tartar, and bad breath
should be used regularly
When to use it
Your pet's oral health is very important. If left unchecked, their teeth and gums can develop problems. Gum disease can lead to the loss of teeth, while excess plaque and tartar buildup can eventually get into their digestive system.
Brushing with special pet-friendly toothpaste is a very effective way to make sure their mouth is kept in top condition. This toothpaste makes things even easier thanks to the fact it's got a flavour your pet will love. If you notice your pet having trouble eating or they seem to have excessive bad breath, make sure to speak to your vet as soon as possible – these could be signs of gum or tooth problems that might require immediate attention.
Ingredients
Glucose Oxidase, Lactoperoxidase, Potassium thiocyanate, Hydrated Silica, Titanium dioxide, di calcium phosphate, snhydrous, glycerine, sorbitol.
Customer reviews
Product reviews are filtered by language.
The following reviews are available in English.
Teeth Cleaning

7It's a bit of hard work when your dog is very small, but well worth the effort when you see the results. White and shining, could not ask for more.

Enzymatic Toothpaste

My dog loves this Enzymatic Toothpaste he can't wait to have his teeth cleaned! I think it could be that he loves the Poultry flavour. My Vet said his teeth look really good so I think it must work, excellent, less Vet bills!

Excellent toothpaste

Keeps my dogs teeth nice and clean, recommended by the vets

Dog toothpaste

ALWAYS HAVE THIS FOR MY DOGS FROM YOU. Very efficient service and keeps my dogs teeth very clean

Poultry flavour Enzamatic toothpaste.

This toothpaste is brilliant for my dog, he seems to look forward too having his teeth cleaned, he has them done twice a day, I use the Logic toothpaste before he goes to bed and the Virbac Enzamatic in a morning, he had to have 11 teeth out a few years ago and the vet advice cleaning them at least once a day, it seems to have helped massively because the vet expected to see him again within 2 years but fortunately with the help of this cleaning he hasn't been back yet, he was only about 4 or 5 and he is 11 now so thank you to the makers of this toothpaste and Medicanimal.