Skip to content
Skip to navigation menu
Epiotic Ear cleaner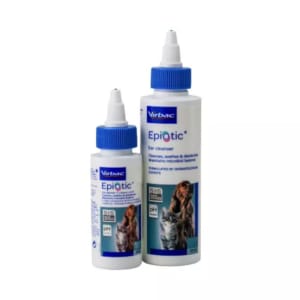 Product details
Epiotic Ear cleaner is a pH neutral, antibacterial and anti-yeast ear cleaner for cats and dogs that provides a safe guard against ear disease. Epiotic Ear cleaner can be used for routine ear cleaning, to aid in the prevention of ear infections (Otitis externa) or as an addition to medicated ear treatment. Its antibacterial and anti-yeast properties make it effective against the key bacteria and yeasts that commonly infect the ear canal. Anti-adhesive glycotechnology prevent bacteria from sticking to the skin cells in the ear canal stopping the cause infection. Key Benefits: Cleansing and drying Soothing and gentle on the skin Anti-Adhesive - Helps to prevent bacteria from sticking to the skin cells in the ear canal. Antibacterial and Antifungal Non acidic Directions for use: With medicated treatment: Epiotic can be used with most treatments for an ear infection*. In this case, Epiotic should be used 30mins to 1 hour before treatment, allowing the ear cannal to be clear of wax and pus and that the ear treatment will not be diluted by the ear cleaner. For prevention: Epiotic can be used routinely to help reduce the recurrence of ear infections and to maintain a healthy clean ear. The recommendation is to use EpiOtic twice a week for regular maintenance of the ear. * Please consult your vet before using with any medication you may have been prescribed.
To ensure that you read the most up to date information about this product, please check the VMD's Product Information Database.
Legal category: AVM_GSL | Product Information Database
Customer reviews
Product reviews are filtered by language.
The following reviews are available in English.
Ears

Cleans and stops irritation

Easy to use and works

Got this for my two spaniels who hate having their ears cleaned. Did the job with as little trouble as possible.

Epiotic Ear cleaner

My Labrador has terrible dark wax in her ear and red and slightly inflamed. The vet prescribed Anti inflammatory injection first and inflammatory ear spray then recommended I use this once a week or when needed. Keeps her ears clean and helps keep on top of the wax. I am very pleased with this ear cleaner.

Epiotic Ear Cleaner

We have been using this product on our 2 Bichons for a few years now. It was originally recommended by the Vet. It cleans out their ears and prevents infection and does not leave a smell or any stickiness.

Epi-optic ear cleaner

Very good ear cleaner and leaves pleasant smell