Skip to content
Skip to navigation menu
Equistro Megabase Junior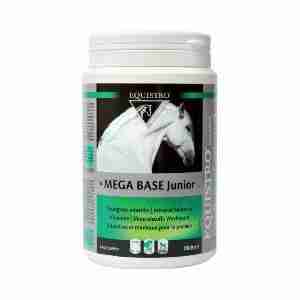 Please Note:
Special (Non-stocked) Item - May take up to 10 days for delivery.

As the first seven months of a foal's life are its main growth phase, exacting standards must apply for nutrients during this critical phase, regarding their biological value and adjustment to the foal's needs. Mare's milk, the main nutrient source for foals, unfortunately does not nearly meet the requirements of growing animals for several important volume elements and trace elements. According to Sonntag, 1996, foals in the 3rd month of lactation receive only 37% of their Ca requirement, 20% of their Mg requirement, 17% of their P requirement and 12% of their Fe requirement via mare's milk. Copper reserves must be stored in the foetal liver and mobilized post partum, since the copper content of mare's milk is very low.

Equistro Megabase Junior is formulated especially to meet the requirements of a sucking foal during the first 7 months of its life. It contains mineral, trace element and vitamin compounds produced in processes that preserve their high biological value. The liquid product form means ready metabolic availability.

Equistro Megabase Junior helps ensure basic supplies of nutrients required for the harmonious and regular development of the skeleton and the locomotor apparatus in foals. Beginning with the bagging up, Equistro Megabase Junior can also be given to mares to increase the reserves of certain nutrients in the foetus and to ensure initially higher content levels in mare's milk.

Customer reviews
We're sorry but there are no reviews of this product in English.