Skip to content
Skip to navigation menu
Eukanuba Dog Adult Large Breed Chicken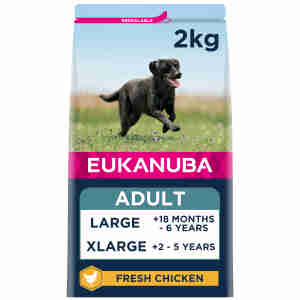 Rollover image to zoom
Product details



Eukanuba provides the optimal daily amount of protein, fat, carbohydrates, important vitamins and minerals for the health and well-being of your dog. This diet specially includes FlexMobility (Joint Management System) to nutritionally support healthy joint cartilage and a reduced fat level to help maintain optimal weight and minimise joint stress. Contains high-quality ingredients and high levels of animal-based protein, with chicken as the number one source.100% complete and balanced nutrition for large and giant breed adult dogs with an average activity level and normal weight.


Key Benefits:
ImmunoHealth - Supports the immune system and promotes the daily, natural regeneration of healthy cells. Contains important antioxidants, such as vitamin E.
CoatCare - Promotes a thick and shiny coat, supports healthy skin and the natural healing process. Contains an optimal balance of Omega-6 and Omega-3 fatty acids
DigestiCare - Promotes a healthy digestive tract and effective nutrient absorption. Contains a moderately fermentable fibre (beet pulp)
Dental Care (Tartar) - Promotes healthy teeth by reducing tartar build-up. Crunchy kibbles help remove plaque and a special combination of minerals helps keep tartar-forming materials from depositing on the teeth
FlexMobility (JMS LB) - Helps support healthy joints, a critical need for large breed dogs Contains glucosamine and chondroitin sulphate to promote cartilage resilience and strength
DigestiCare - Promotes a healthy digestive tract, intestinal environment and excellent nutrient absorption Contains an exclusive formulation of fermentable fibres (beet pulp + FOS)
GlucoseBalance - Helps nutritionally manage normal blood sugar levels after meals Contains special carbohydrate sources

Ingredients:
Chicken (20%), maize, wheat, sorghum, barley, animal fat, poultry meal, dried beet pulp, chicken digest, dried whole egg, brewer's dried yeast, potassium chloride, salt, sodium hexametaphosphate, fish oil, DL-methionine, linseed, glucosamine hydrochloride, chondroitin sulphate. Contains EC permitted antioxidants. Contains EC permitted antioxidant: tocopherols.


Customer reviews
Product reviews are filtered by language.
The following reviews are available in English.
A few months supply of Eukanuba dog food purchased

Great value and good delivery on our first ever purchase from Pet Supermarket

Eukanuba large breed chicken and rice

This is an excellent product for a working dog and at a realistic price

Quality as always

A well balanced food, always enjoyed by my greedy border collie!

All my dogs, over the past 20 years, have been fed on Eukanuba. I think it's wonderful how one can get this product according to breed, size of breed etc. All my dogs have had healthy coats, have been healthy and have enjoyed eating their food. I have only just recently found this web site and am amazed at how much money I will now save by buying from Pet-Supermarket! I do strongly recommend this product for anyone looking for a good quality dog food, or for anyone wishing to try something new.

We have a 2 yr old Lab and a 2yr old Springer and both have been on Eukanuba from puppies. They love it, we have never had any upset tummies, even as puppies and they have developed into 2 very strong , healthy and handsome boys with beautiful coats covering muscular bodies. We would never consider changing their diet and Pet Supermarket give great deals.