Skip to content
Skip to navigation menu
Eukanuba Dog Mature & Senior Large Breeds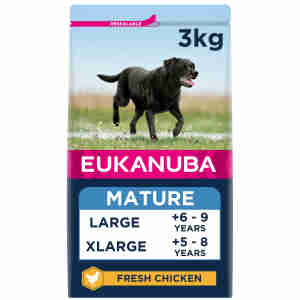 Rollover image to zoom



This Eukanuba diet is formulated to address the special nutritional needs of mature and senior large breed dogs - like immune health, joint health, weight control, and dental health. Eukanuba provides the optimal daily amount of protein, fat, carbohydrates, important vitamins and minerals for the health and well-being of your dog. Contains high-quality ingredients and high levels of animal-based protein.

100% complete and balanced nutrition for mature and senior large (25 - 40kg: 6+ years) and giant breed dogs (>40kg: 5+ years).

Key Benefits:
ImmunoHealth - Supports the immune system and promotes the daily, natural regeneration of healthy cells. Contains important antioxidants, such as vitamin E.
CoatCare - Promotes a thick and shiny coat, supports healthy skin and the natural healing process. Contains an optimal balance of Omega-6 and Omega-3 fatty acids
DigestiCare - Promotes a healthy digestive tract and effective nutrient absorption. Contains a moderately fermentable fibre (beet pulp)
FlexMobility (Mature Senior) - Helps support healthy joints, a critical need for ageing and large breed dogs. Contains glucosamine and chondroitin sulphate to promote cartilage resilience and strength
WeightControl - Helps manage weight loss and maintenance. Contains reduced fat levels and L-carnitine, to help burn fat and maintain lean muscle mass
Dental Care (Tartar) - Promotes healthy teeth by reducing tartar build-up. Crunchy kibbles help remove plaque and a special combination of minerals helps keep tartar-forming materials from depositing on the teeth
DigestiCare - Promotes a healthy digestive tract, intestinal environment and excellent nutrient absorption Contains an exclusive formulation of fermentable fibres (beet pulp + FOS)
GlucoseBalance - Helps nutritionally manage normal blood sugar levels after meals Contains special carbohydrate sources
Healthy Joints - Supports Healthy Joints

Ingredients:
Maize, chicken (20%), wheat, sorghum, barley, poultry meal, dried beet pulp, animal fat, dried whole egg, chicken digest, brewer's dried yeast, potassium chloride, salt, fructooligosaccharides, sodium hexametaphosphate, fish oil, linseed, DL-methionine, glucosamine hydrochloride, marigold extract, borage oil, chondroitin sulphate. Contains EC permitted antioxidants. Contains EC permitted antioxidants: tocopherols and propylgallate.


Customer reviews
Product reviews are filtered by language.
The following reviews are available in English.
Eukanuba dog food for large breed seniors

My Dalmatian is doing well on this food,he can still run around like a teenager when he wants to! He is now nearly 9 and is fit and well.

11 year old Retriever

My golden is so much healthier since I changed her diet. She loves her food and has actually lost a little weight!!

This food is very high quality, I have an 11 year old Springer Spaniel so had allergy s to the supermarket food. I bought this food and now she is full of beans. This food really seems to fill her up, the vet reccommended i feed this food and I will never be turning back to the cheap food from the supermarket. It is worth every penny.

Full of every thing your dog needs,vets recommend it, my dog loves it, fit healthy and happy what more can you ask, and save money using this site also a win win solution

My dog is pretty fussy and would only eat bakers choice, one day I thought I would make a change, I got Eukanuba adult chicken she absolutely loved it and now all she eats it has made so much difference she is more content and so much more happier and more healthier she now runs and plays as if a puppy her coat is a lot more healthier too I would definitely recommend this product to everyone.