Skip to content
Skip to navigation menu
Eukanuba Dog Veterinary Diet Intestinal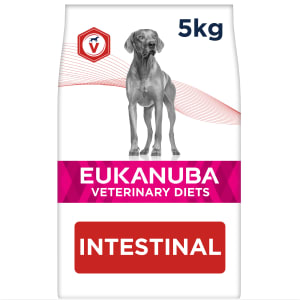 Product details
If your dog is suffering from a gastrointestinal disorder, Eukanuba dog veterinary diet intestinal food can help to relieve and soothe their system, while providing all the nutritional support they need.

How it works
If the bacteria in your dog's stomach is out of balance, it can cause irritation and digestive problems. Prebiotics in this food help to maintain that balance, while a low overall fat content reduces the chance of inflammation.
If any harmful bacteria do take hold, MOS, or mannan oligosaccharides, make sure that they don't get stuck in your dog's stomach long term, and instead are removed when they go to the toilet.
In addition to these special ingredients, the food has everything your pooch needs to stay healthy, including omega-3 and omega-6 for joint health and vitamin E for an immune system boost.

Key benefits
manages inflammation
contributes to healthy joints
low in fat
high quality protein
vitamin E bolsters your pet's immune system
MOS removes harmful bacteria.
When to use it
The Eukanuba veterinary diet can help to relieve some of the potential causes of gastrointestinal problems. Build-up of harmful bacteria along the stomach walls is a common cause, for example. The MOS in this food can remove that bacteria, while the prebiotics ensure there is more bacterial balance in your pet's stomach in general.
While the food can help prevent things getting worse, spotting the signs of a gastrointestinal problem early is important too. If your dog has excessive flatulence, needs the toilet more often, or vomits after eating, make sure to see your vet as soon as possible. Other symptoms can include regurgitating food that isn't fully digested, and general physical weakness.
Customer reviews
Product reviews are filtered by language.
The following reviews are available in English.
Eukanuba Intestinal Dog Food

My 10 year old Dalmatian has had stomach upsets in the last year. He is now much better as I changed his food to Eukanuba Intestinal a few months ago. My Vet said to keep him on this food. It definitely has settled his sensitive stomach. I am glad I did my research.

Good work!!

Fast delivery. I couldn't find this product anywhere else. Great job MedicAnimal!

Eukanuba Dog Veterinary Diet Intestinal

I found an unbeatable offer for this product which is the only one which keeps my dog's tummy settled. Delivery was swift and the entire ordering process simple. I now find I have credit points for my next purchase. I will certainly shop with medicanimal.com in future. One happy dog and a happy owner.

Eukanuba Intestinal

Great food for an elderly dog who had tummy problems. This food has helped immensely.

Buying Abroad

We live abroad in Luxembourg and following Our dogs tummy upset, the vet recommended the Eukanuba Intestinal biscuits. Tried to find them locally but without success so looked at the Internet and came across the Pet Supermarket. we were travelling back to the UK by car anyway & not really ideal to transport as hand luggage! so stocked up with three 12kg bags. They arrived at my sisters house in good time and perfect condition, not to mention the great value for money. We'll definitely be using Pet Supermarket again. Well done!