Skip to content
Skip to navigation menu
Add to an existing Repeat Order
Add to an existing Repeat Order
Licensed item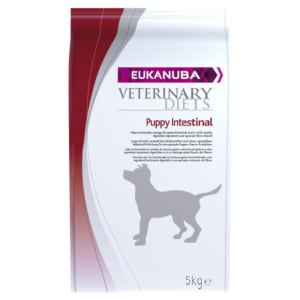 Eukanuba Puppy Veterinary Diet Intestinal
This is a licensed item so for regulatory reasons and to ensure we are providing the best product for the health of your pet, we need to ask you to confirm a few details.
Please confirm the type of animal you will be giving this licensed product to:
I am aware of the relevant safety precautions relating to the licensed products.
I will read the packaging and product literature before using any licensed products, and will use all licensed products according to the manufacturer's datasheet
I am not buying for resale and I am happy to be contacted if required
I confirm that the animal the licensed products will be given to is in general good health
I confirm that the animal the licensed products will be given to is NOT pregnant or lactating
Add to an existing Repeat Order
Licensed item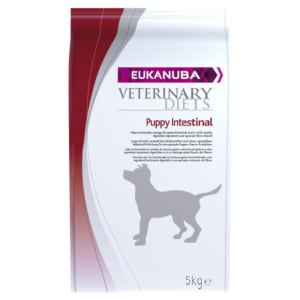 Eukanuba Puppy Veterinary Diet Intestinal
This is a licensed item so for regulatory reasons and to ensure we are providing the best product for the health of your pet, please read and confirm the details below:
By purchasing this product, you confirm your pet has been examined by a vet who has recommended the use of this food on the basis of examination and diagnosis.
You understand it is recommended while your pet is being fed this product, you seek veterinary advice at least every 12 months regarding the usage of this food and the on-going care of your pet.
Should your pet's condition deteriorate in any way while using this product, seek immediate veterinary advice.
Add to an existing Repeat Order
You are adding: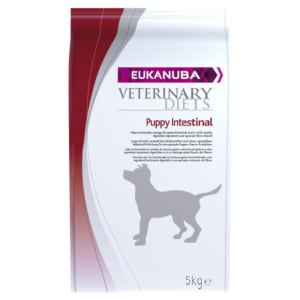 Eukanuba Puppy Veterinary Diet Intestinal
To the following repeat order:
Next order due on:


Delivered every
text.account.new.upcoming.orders.payment.brand.
Add to an existing Repeat Order
Thank you, we have updated your order. Your order is due on
You're setting up the following repeat order: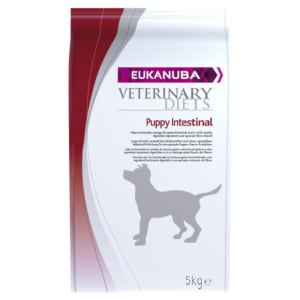 Eukanuba Puppy Veterinary Diet Intestinal
Product details
Eukanuba Veterinary Diets Intestinal is formulated to help support the veterinary management of your puppy's gastro-intestinal issues such as vomiting and/or diarrhoea as well as for recovery issues (such as after routine surgery). Using special fibres and a highly digestible recipe it supports the function of the digestive tract without compromising your puppy's overall health and well-being. Helping to support the normal digestive process and bacterial balance, maintains normal intestinal bacterial balance, normal healthy intestinal cells and promotes normal stool consistency.
Key features:
Highly digestible ingredients – for easy digestion and support of nutrient uptake
Low fat level – helps support the regulation of lipid (fat) metabolism and digestive stress on the gastrointestinal system
Beet pulp – a special fibre that produces an energy source for the cells of the large intestine. Helps maintain intestinal health and optimal stool consistency
FOS (fructooligosaccharides) – the prebiotics fibre fructooligosaccharides (FOS), to maintain digestive health and support nutrient absorption
MOS (mannanoligosaccharides) – helps support the natural balance of the intestinal microflora, important for nutrient absorption
Omega-3 fatty acids from fish oil, fish ingredients – helps to maintain the gastrointestinal tracts health
Dry and canned Dog and Cat formulas can be fed separately or mixed– to help maximise acceptance if the appetite is low
Immune Health: Vitamin E – an antioxidant to support strong natural defences
Dental Health; polyphosphate (special minerals) help reduce tartar build-up across the whole mouth during and beyond mealtime
Skin and Coat Health; Targeted omega-6:omega-3 fatty acid ratio – to support a healthy skin and shiny coat
Whole Body Health; High quality animal-based protein – supports a healthy recovery and managing overall health and well-being.
When to use it:
Many puppies can experience digestive issues. When the stomach and intestine are not functioning properly they may not be able to extract and digest needed nutrients. You may see: loose or soft stools (diarrhoea), mucous or blood in the stool, flatulence, weight-loss if the problem has gone on for a while, vomiting. Your veterinary team are the best people to help manage and advise you on your pet's condition.
Ingredients
Maize grits, Dried Chicken and Turkey, maize, rice, dried whole egg, dried beet pulp, (3.3%), hydrolysed animal proteins, animal fat, fructooligosaccharides (1.0%), brewer's dried yeast, potassium chloride, linseed, sodium hexametaphosphate, calcium carbonate, fish oil, mannanoligosaccharides (0.19%), sodium chloride.
Feeding Guide
Recommended quantity/day (dry food):
| | |
| --- | --- |
| Dog weight (kg) | Grams/day |
| 2 | 45-55 |
| 5 | 85-95 |
| 10 | 135-150 |
| 20 | 210-235 |
| 30 | 280-310 |
| 40 | 340-435 |
| 50 | 390-435 |
| 60 | 445-495 |
| 70 | 490-545 |
Always make sure that your dog has access to plenty of water
Customer reviews
Product reviews are filtered by language.
The following reviews are available in English.
Our new cocker spaniel puppy got to over four months with no let up in his diarrhoea. Eventually our vet put him on this food and within a few days the diarrhoea was cleared up - marvellous!

This food has really helped my standard poodle puppy, whos`s been very ill with a bacterial and parasite infection. Would recomment it

Recently i brought a standard poodle, unfortunately she was very poorly from the word go. She had a Gardia parasite infection, also a nasty bacterial infection. It was so bad she was on intravenous fluids for several days on 2 occasions. Well she`s had appropriate medications from the vet, but her motions were still extremely loose dispite this. By chance i found the Eukanuba Intestinal formula, and WOW! what a huge improvement! After one day on it she was passing normal stools. Thank goodness for Eukanuba!