Skip to content
Skip to navigation menu
Eukanuba Puppy Veterinary Diet Intestinal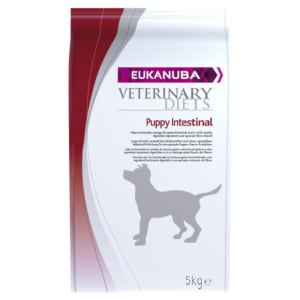 Product details
Eukanuba Veterinary Diets Canine We're working with veterinarians, nutritionists, and other experts to advance our more than 60 years of experience and knowledge of pet well-being. We are dedicated to improving our existing products and creating new ones that truly make a difference in the lifelong health of dogs and cats. We have exceptional science-based nutrition, high-quality ingredients, and tailored life-stage formulas. You can be confident that Iams and Eukanuba will provide only our best nutrition for your pet. Eukanuba Prescription Diet pet food is a therapeutic nutrition and therefore is only available from your vet or PET SUPERMARKET. No prescription is required to purchase Eukanuba Canine Prescription from PET SUPERMARKET. Eukanuba Veterinary Diets Canine Intestinal Formula for Puppies Eukanuba intestinal formula for puppies is a low-Residue formula designed to nutritionally aid in the management of gastrointestinal conditions. Your veterinarian may recommend these diets when your pet is experiencing vomiting, diarrhoea, gas, or constipation. Low-Residue is also recommended for the management of conditions such as colitis (inflammation of the colon), pancreatitis (inflammation of the pancreas), dietary indiscretions, or inflammatory bowel disease. Eukanuba Intestinal Formula Dog is formulated to help the nutritional management of Intestinal problems in pups. Loose stools can have many causes. Although the problem can be caused by something more serious, your veterinarian can explain how dogs can develop loose stools from something as simple as heat, exercise, diet, or stress from boarding. In 3 days, you can start to soothe your dog's digestive sensitivities. Eukanuba Veterinary Formulas Intestinal works by providing a unique blend of high-quality fibre, protein, and fat sources to help naturally strengthen the intestine and make digestion easier. In a clinical study, dogs with stress-related loose stools were fed Intestinal. Overall, they showed: noticeable improvement (some firming) after 3 days fewer daily episodes of loose stools after 1 week Indications Acute/chronic gastroenteritis Small intestinal bacterial overgrowth Transient non-specific diarrhoea Dietary indiscretions Exocrine pancreatic insufficiency Parasitic disease Post-acute viral diarrhoea Constipation Contraindications None Key Benefits A special blend of fibres that benefit your pet's intestinal tract by nourishing the "good" intestinal flora and enhancing large bowel health low fat level for those pets that may have problems digesting and absorbing fat Adjusted omega-6:omega-3 fatty acid ratio to promote a healthy skin and coat Highly digestible for enhanced nutrient absorption, An extremely palatable for easy acceptance by your dog Low-Residue Puppy is complete and balanced to provide nutrition for healthy growth and development. Puppies in particular can become quickly dehydrated if they continue to have diarrhoea or vomiting. If these symptoms persist an examination by a veterinary surgeon is advised. All Eukanuba super premium pet products come with a 100% satisfaction guaranteed or your money back, simply return your purchase back to PET SUPERMARKET®* *Please note that you will be responsible for the cost of returning the product back to PET SUPERMARKET® and you will be eligible for a full refund of the price paid for the food. If you received free delivery with your order, and the refund brings your order total under the PET SUPERMARKET® free delivery threshold you will be charged at the prevailing rate as per our postage tariff on the day on which you placed your order.
Customer reviews
Product reviews are filtered by language.
The following reviews are available in English.
Our new cocker spaniel puppy got to over four months with no let up in his diarrhoea. Eventually our vet put him on this food and within a few days the diarrhoea was cleared up - marvellous!

This food has really helped my standard poodle puppy, whos`s been very ill with a bacterial and parasite infection. Would recomment it

Recently i brought a standard poodle, unfortunately she was very poorly from the word go. She had a Gardia parasite infection, also a nasty bacterial infection. It was so bad she was on intravenous fluids for several days on 2 occasions. Well she`s had appropriate medications from the vet, but her motions were still extremely loose dispite this. By chance i found the Eukanuba Intestinal formula, and WOW! what a huge improvement! After one day on it she was passing normal stools. Thank goodness for Eukanuba!