Skip to content
Skip to navigation menu
Eukanuba Working & Endurance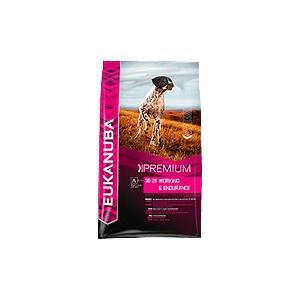 Product details
Eukanuba

100% complete and balanced everyday nutrition for your dog

Eukanuba provides the optimal daily amount of protein, fat, carbohydrates, important vitamins and minerals for the health and well-being of your dog. Eukanuba dog food contains high-quality ingredients and high levels of animal-based protein.



Eukanuba Performance Working Dog Food
Adult 1+ years
Dogs who have high levels of exercise through working and field trials need more than everyday nutrition to maintain health and stay at peak performance. The same is true for dogs that are pregnant, in lactation or those that are underweight.
Eukanuba Working; It is designed to deliver continuous levels of nutrients for top energy levels and performance. Endurance is balanced and complete nutrition for daily feeding.
Eukanuba Working ; Endurance is made with:
30 % more protein + 50 % more fat* for extra energy
Dual energy system for fast and sustained energy release
Natural + Prebiotic fibres to maintain a healthy and stable intestinal environment
Cartilage nutrients such as glucosamine and chondroitin sulphate to support healthy joints
Rich in omega-3 fatty acids for good nose and scenting ability
*compared to Adult Maintenance Large Breed
Eukanuba Performance Working & Endurance provides optimal nutrition for working dogs with high energy and nutrient needs from 1 year onwards. It contains our highest levels of protein (30%) to promote lean muscle and fat (20%) to promote sustained energy peak performance* for adult dogs. Recommended for pregnant and lactating females. Nutrient-rich for good nose and scenting ability (*for Adult dogs).
Key Benefits:
Reduces tartar build-up, plaque.
Maintain strong teeth.
Enhanced with L-Carnitine to help burn fat and maintain a healthy weight.
Animal-based proteins clinically proven to help promote strong, lean muscles.
Optimal ratio of Omega-6 and 3 fatty acids helps promote healthy skin and radiant coat.
Prebiotics and clinically proven beet pulp to promote digestive health and optimize nutrient absorption.
Clinically proven prebiotics FOS help promote strong natural defences.
Contains calcium, clinically proven to help promote strong bones.
100% complete and balanced.
No artificial preservatives, flavours or colorants added.
Customer reviews
Product reviews are filtered by language.
The following reviews are available in English.
I have an extremely energetic English pointer who has been on this food for the last two years having trialled a number of alternatives. Expensive but worth it.

I have 2 VERY agile Chihuahuas who burn off more than the eat in my opinion. I phoned the expert at Eukanuba and explained that I was worried that they looked underweight and was afraid that people may think that I wasn't feeding them. I was advised to try them on the work and endurance and it has worked a treat they are still slim, but not thin and very muscular - Brilliant !