Skip to content
Skip to navigation menu
You're setting up the following repeat order: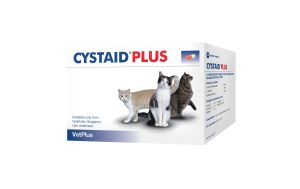 Feline Cystaid Plus Capsules
Product details
Feline Cystaid Plus Capsules are a nutritional supplement for the management of lower urinary tract function in cats to help maintain a healthy bladder.
The signs of a bladder inflammation can include blood in the urine, urinating more frequently or showing signs of pain and difficulty urinating. A health indicating cat litter will also help you detecting the first symptoms.
If you spot one of these symptoms or the litter indicates in issue, please seek advice from for vet. If left untreated, deterioration of the bladder wall could cause your cat more discomfort.
Cystaid Plus is presented in capsules and can be used for short or long term support. Capsules can be opened and mixed with food, or given whole.
Unless otherwise directed by your vet, capsules should be given twice daily for the first 3-4 weeks, then once a day if long term supplementation is required.
Cystaid Plus contains:
N-acetyl D-glucosamine which helps to replace and maintain the glycosaminoglycan layer that lines and protects the bladder mucosa.
L-Theanine is an amino acid found in green tea with natural calming properties
Quercetin is a naturally occurring antioxidant
The package contains 240 capsules.
Dosage
Dosage Administration:
Cystaid can be given whole or sprinkled and mixed with the food.
2 capsules a day during the first two weeks
1 capsule a day for maintenance
Customer reviews
Product reviews are filtered by language.
The following reviews are available in English.
Cystaid

Arrived promptly as usual thanks

Cystaid capsules

Great for my tom cat who has cystitis. One a day and no more vet trips for him. Keeps the cystitis at bay

Great

I have two cats who use these powders . No urinary problems when used with the correct food . It is a lot cheaper buying it here than from the vet for the same stuff !Thank goodness for medic animal.com

These capsules have done wonders for my 2 elderly cats' stress-related cystitis. One cat hasn't had any symptoms for 18 months and the other gets less frequent and milder attacks that don't usually need a trip to the vet - much to her relief! Highly recommended.