Skip to content
Skip to navigation menu
Feliway Diffuser and Refill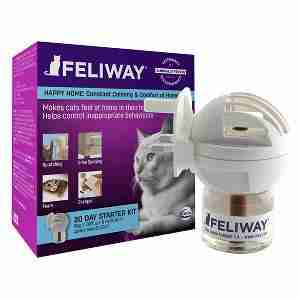 Rollover image to zoom
Product details
Feliway Diffuser and Refill releases a comforting, synthetic copy of the feline facial pheromone, creating a calming, stress free environment for your cat that can also prevent any unwanted behavior which often stems from stress.
How it works
Feliway is a synthetic copy of the feline facial pheromone that cats leave behind when they rub their face on people, furniture, doorways and other objects in the home. It is a sign they feel comfortable and safe in their home environment. Cats are at their most well behaved when they feel in control of their environment, anything that interrupts this can unsettling.
The diffuser plug and refill slowly release the soothing pheromone into the air letting your cat feel at ease. The diffuser should be plugged into the room where the cat spends most of it's time
Key benefits:
Creates a pleasant environment
Reduces Stress
Improves behaviour
Non-sedative and non-systemic so it can be used alongside other types of medications
Covers area 50-70m squared
Clinically proven to help reduce inappropriate behaviours caused by stress
Used by vets and pet owners worldwide for over 19 years.
92% of cat owners are satisfied after using Feliway
When to use it
If your cat is spraying, scratching in multiple locations and showing signs of stress such as hiding and overgrooming, they may not feel comfortable in the home. This could be due to a dramatic change or big event in the home. Feiway helps to reduce this stress by sending out the same pheromones to make your cat feel comfortable again.
Pack contains:
Plug-in diffuser
30 day refill (48ml)
Feliway refills can be purchased to replenish the diffuser every 4 weeks. The diffuser plug should be changed every 6 months.
Please note, the packaging of Feliway diffusers has changed. The diffuser in these packs is our original diffuser unit.
Customer reviews
Product reviews are filtered by language.
The following reviews are available in English.
Feliway

My cat was spooked by something and wouldn't come out from under dining table for a few days, feliway seemed to have calmed her down, always have one plugged in. Fast delivery too and much cheaper than a well known pet shop.

Feliway

Prompt delivery . Has calmed my latest rescue cat down to almost trusting us and the others are really really chilled! I will be buying more.

Feliway

Not sure if it is working but delivery was excellent

Feliway calming??

Not sure if this was effective or not, for a start as all my plug sockets are floor level in my lounge couldn't plug it in with the bottle underneath. So had to plug it in my bedroom which is were my cats sleep. But with Diwali fireworks going off until 12.45 at night cat were freaking out a bit, but had given them Zylkene tablet which did seem to calm them more. The tablets I think were the better option in my mind.

Calming effect

Very good service and prompt delivery of feliway. I had one female cat then I inherited a male cat from one neighbour and another neighbour brought me an abandoned kitten he'd found , so I didn't have a happy household. Peace hasn't quite been restored but things are a lot better now. the male cat and kitten now get on well and my female referees when they fight. Still have a bit of hissing but the aggression and fear has greatly reduced. So a good purchase