Skip to content
Skip to navigation menu
You're setting up the following repeat order: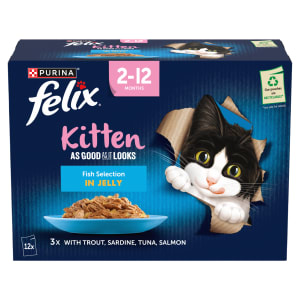 Felix As Good As It Looks - Kitten
Product details

Felix As Good as it looks is a new type of cat food which looks and smells so meaty it is just like food you cook yourself. It tastes so delicious that your cat will find it so irresistible at every meal time.

Delicious Felix As Good as it Looks Kitten Pouch is a complete pet food specially formulated for all kittens between 6 and 52 weeks.

Kittens naturally have small mouths and stomachs (the stomach is about the size of a walnut at 8 weeks), but they also have large appetites. Felix kitten Pouches are specially formulated to contain all the essential protein, vitamins and minerals your little rascal requires. It comes in delicious bite size steaklets in jelly that are easily digestible providing an excellent fuel for the first year of adventure.

Each Fish Variety 12 pack contains:
3 x Cod
3 x Salmon
3 x Tuna
3 x Plaice

Each Mixed Variety 12 pack contains:
3 x Beef
3 x Chicken
3 x Tuna
3 x Salmon

Made with quality meats and foil sealed, to maintain that delicious fresh flavour your kitten will love. So just dip in and choose a different variety every meal time.