Skip to content
Skip to navigation menu
Fibrecycle Breeder Celect 100% Recycled Paper Litter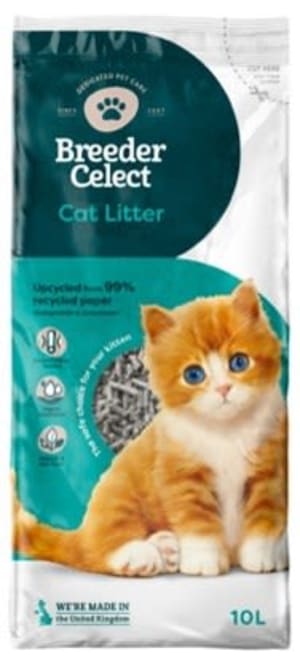 Product details
Fibrecycle Breeder Celect 100% recycled paper litter is a non-clumping, natural cat litter made in the UK from reused newspapers.
What it's for
Breeder Celect has developed a technology that transforms old newspapers into extremely absorbent products. This process is environmentally friendly, with no chemicals or additives used. This unique process also means that the litter is 99% dust-free, so it's a great alternative for pet parents that may suffer from asthma. The litter is not only very absorbent but also biodegradable and can be recycled with your compost after use, reducing your carbon pawprint. Even better, this litter is lighter than other cat litters, so it's easy to move around.
Key benefits
no chemicals or additives
100% biodegradable
super absorbent pellets
naturally controls odour
essentially dust-free
easy to carry
comes in ten, 20 and 30-litre bags
How it works
You can be sure that by using this litter you're looking after both the environment and your kitty. Not only are you reducing your carbon footprint, your cat will have a super absorbent, odour-neutralising litter where they can go to the bathroom.
You don't need to worry about your floors either, as these pellets are made from paper so even if they do end up stuck to your cat's paws, they're not going to make a mess or leave a mark.
To introduce your cat to this litter, simply pour a flat layer into their box, replacing your previous brand. To ease the transition you can try mixing the two and gradually phase out the old litter. Make sure you remove any waste and lumps daily and change the whole box once a week.
Customer reviews
Product reviews are filtered by language.
The following reviews are available in English.
Great litter

I have been using this for quite a while & have nothing negative to say about it. I have only one indoor cat & there is no problem with odour. Also I like that it's a natural material.

Cat litter

Works well for my two cats. Doesn't break up into dust, I find a few pieces outside the tray after they have used it, but easily brushed up. The trays are changed daily as my two are very fussy about a clean toilet. Recommended.

Fibre cycle breeder celect 100% Recycle litter

Not so good on the odour level. Absorbent, non-clumping which makes it harder to remove from tray. Would not buy again.

Top Notch Cat Litter

I always buy this litter. It absorbs smells and is eco-friendly. My cat is quite choosy and dislikes other litters. I can fully recommend this product.

Best litter

The cats prefer this litter to any other. It's clean, eco friendly and absorbs the smells well.