Skip to content
Skip to navigation menu
Flexi Collection Tape Leash Medium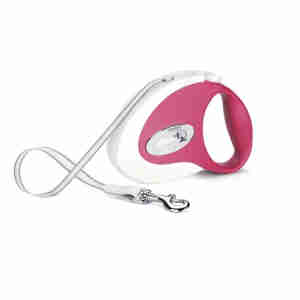 The Flexi Collection tape leash is the perfect tool for keeping your dog close when hazards crop up. An extendable cord gives them freedom to roam too.
How it works
If you need a lead for keeping your dog under control close to roads or in fields with livestock, this is the perfect solution. Attach this leash to your dog's collar or harness with the chrome clasp and release the button on the handle to set your desired length. There's a convenient security lock that keeps it in place.
The ergonomic handle is comfortable to hold, even over long distances, and the whole lead can be easily transported in your pocket when it's not in use. It takes the weight of medium-sized dogs, such as springer spaniels, setters and pointers, up to 25 kilograms.
Key benefits
strong lead with stylish and durable leather trim
designed for dogs weighing up to 25 kilograms (55 pounds)
ergonomic handle is comfortable to hold over distance
sturdy chrome snap hook
pocket-sized
cord extends to five metres (16 feet)
When to use it
If you live in a built-up area with lots of other dogs, or in the countryside surrounded by livestock, this leash can help you to keep your dog close by your side. It extends up to five metres when the coast is clear, but can easily be reeled back in when hazards come into sight.
Keep the lead short when training your dog to walk to heel or not to pull, and reward them with treats when they obey your commands. Let it fly loose when your dog has space to run safely.