Skip to content
Skip to navigation menu
Flexi Collection Tape Leash Small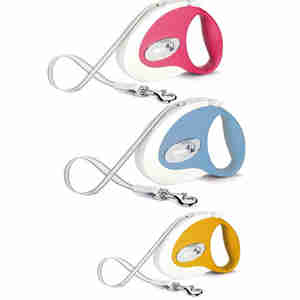 This retractable lead from the Flexi Collection reaches up to three metres, letting your dog roam free while remaining safe.
How it works
This three-metre lead is specifically designed for smaller breeds, allowing them the space to sniff out their surroundings while you stay in control. Simply clip it onto their regular body harness and let it out to give them freedom to explore safe spaces. When the walk is over, you'll find the lead fully retracts into the holder, ensuring there's no dangly tape for you or your dog to trip on and making it easy to store between walks.
Key features
designed for pets up to 12 kilograms in weight
stylish and durable leather trim
fully retractable three-metre tape
small enough to fit in your coat pocket
available in three colours
gives you full control over your dog
When to use it
Walks are great fun for your dog. Not only does it ensure that they're getting the exercise they need, but they also get to explore their surroundings and engage all of their senses. The retractable lead from Flexi Collection gives your dog the ability to roam without restriction, while ensuring you can keep them to heel near busy roads, rivers, or in car parks. Save time switching over to a short lead by retracting this tape lead when you want to keep them close. This durable leash has been specially crafted for smaller breeds up to 12 kilograms in size, such as dachshunds and terriers. It can be clipped onto a body harness to give you full control over their speed and position, and is small enough to fit inside your coat pocket when not in use.