Skip to content
Skip to navigation menu
Flexi New Classic Extra Small Cord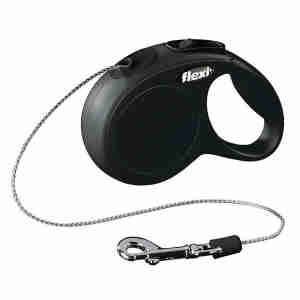 Product details
Set your little dog on an adventure – the safe way – with a Flexi New Classic XS cord.

What it's for
If you have a small dog such as a pekingese, King Charles spaniel or affenpinscher, you can give them room to explore their surroundings safely with this retractable lead. With a durable chrome snap hook, it'll hold any dog that weighs up to eight kilograms. To avoid pulling, you can easily set the lead to your desired length when out on walkies. Simply push the button and slide the lock on the lead and you're good to go. If you want to keep your pal by your side, release the button to smoothly and instantly retract the cord.
As well as walking on-lead, it's a good idea to teach your dog commands such as 'stay', 'heel' and 'leave' to keep them safe when out and about. You can ask your vet for more tips to teach your pooch to walk easily by your side.
Key benefits
stylish lead securely holds dogs up to eight kilograms
retractable lead extends up to three metres
easily lock cord length in place with one hand
tough cord and durable chrome snap hook
How it works
The Flexi New Classic XS cord lets you give your dog room to explore while keeping them safely on the lead. You can extend the cord up to three metres, push a button to set your desired walking length, then release the button to retract it easily – all with one hand. The durable plastic handle is comfy to hold, while the tough cord and chrome snap hook will safely keep a small, even excitable, dog in place.