Skip to content
Skip to navigation menu
You have setup the following Repeat Order: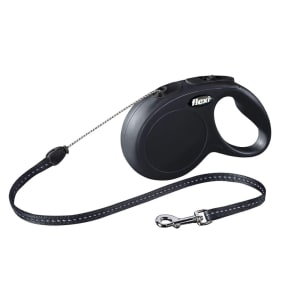 Flexi New Classic Small Cord
Product details
Stretch your dog's legs freely and safely with the Flexi New Classic small retractable lead.

What it's for
This retractable lead is for dogs who love to explore and owners who want to keep them safe when necessary. It gives your pooch freedom to sniff around while keeping them securely on-leash. In town, you can retract the lead to keep your dog by your side. When you get to the park, the lead extends up to five metres, so your furball can fly around safely. Come home time, you can set a comfortable walking length for you and your pal.
Key benefits
easily extend, retract and lock lead with one hand
cord extends up to five metres
smooth and reliable retractable cord
stylish, comfortable lead comes in three colours
add on Flexi accessories
How it works
The Flexi New Classic small retractable lead is stylish, comfortable and easy to use. With one hand, you can extend the lead up to five metres (enough to chase a ball) and retract the cord to keep your dog close-by and out of mischief.
The lead's short-stroke braking system is a thumb stretch away. Simply push the button to stop the lead and slide the catch to set your desired cord length. To extend, just release the catch or button and the lead winds out smoothly for you. You can add on Flexi accessories too, such as the Multi Box for carrying treats and the LED lighting system for nighttime walkies.
As well as on-leash walking, you can keep your dog safe while out and about by teaching them commands such as 'heel', 'leave' and 'stay'. Armed with these, you'll keep them under control around town and when unknown dogs come sniffing.
Customer reviews
We're sorry but there are no reviews of this product in English.